Former Love and Hip Hop cast member Erica Mena has issued an apology to Jamaican cast member Spice after she called her a monkey and made monkey sounds during an argument they had on the show.
However, Erica Mena has doubled down that she is not racist and did not mean the word in a racist context when he threw the barb at Spice during an argument. Spice and Erica had a confrontation during the last episode of the show, where Spice told Mena that her son hated her after they argued about something Safaree told Spice that Mena said.
The women had a war of words, and Mena began shouting and calling her a "monkey" and "blue monkey" while making monkey sounds.
The last few weeks have been tough for Mena, who has been getting major heat from the public, so it is no surprise that she is apologizing because her money bag is at risk of being canceled. She was kicked off the Love & Hip Hop franchise, at least for the next season, and she was booted off of the show Hush by All Black Entertainment.
According to her statement shared on her Instagram, Erica Mena denies that she is racist.
"I deeply regret my insensitive comment and want to humbly apologize to anybody I hurt or offended by my thoughtlessness. My choice of words was wrong, and I take full responsibility for what I said," Mena was quoted as saying.
She added, "I am committed to listening to the voices of those affected and will work toward making amends. As a woman of color and the mother of two black children, I want to make it clear that my use of that word was not in any way racially driven."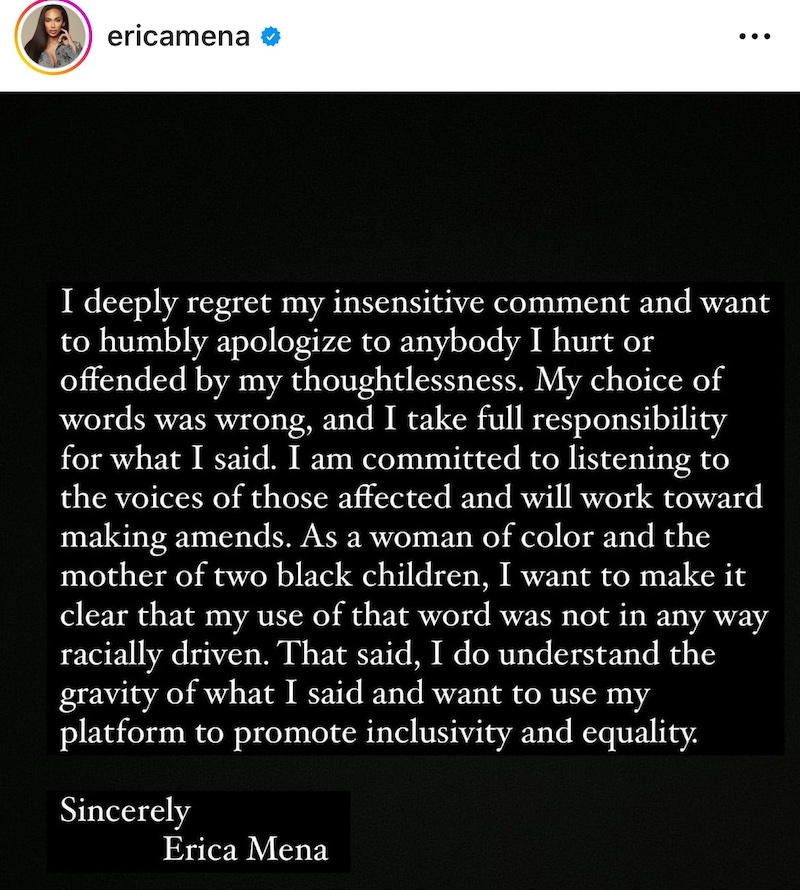 Mena continued that she understands "the gravity of what I said and want to use my platform to promote inclusivity and equality."
In the meantime, many reacted to Erica's apology and disagreed with her stance.
"Without casting judgment myself, I will say you can love a black person, have black children, and STILL be racist," one person wrote. "Not racially driven," but ONLY says monkey when she's arguing with black women… interesting," another said.
Another defended Erica, "She wasn't using as a racial slur and yall KNOW that. You all just hate this woman. they been fw erica for years!"
Erica Mena has in the past been accused of using racial slurs towards other people, but this is the first time such behavior has resulted in major fallout, including her losing acting gigs on Hush and also being off the upcoming season of Love and Hip Hop.