Spice wanted to put hands on her former friend Karlie Redd on the season finale of Love and Hip Hop: Atlanta.
Spice is getting backlash for starting yet another fight in the final episode of Love and Hip Hop Atlanta, this time over who Karlie Redd decided to rent her house to. The dancehall artist and Karlie were best friends at some point, but it seems that the women's relationship is irrepairable following the explosive fight where Spice rushed Karlie to beat her up.
Spice has a new problem with Karlie in relation to the house that she bought across the road from her. She previously shared that Karlie Redd had bought a house across the street from her house and kept it a secret. Spice claims that Redd even went as far as having the neighbors sign NDAs so Spice wouldn't know. It's unclear why Karlie did that.
However, Karlie seems to have moved out of the home and is renting it out after Spice raised concerns in previous episodes that Karlie was jealous and stalking her.
"Me have a beating fi yuh bloodcl*** watch me and you. Me make sure wait until the camera stop roll…Ah thru mi nuh want grab you backway a while ago, a thru me nuh want confront you," Spice is seen screaming as she rants and is being held back by Shekinah.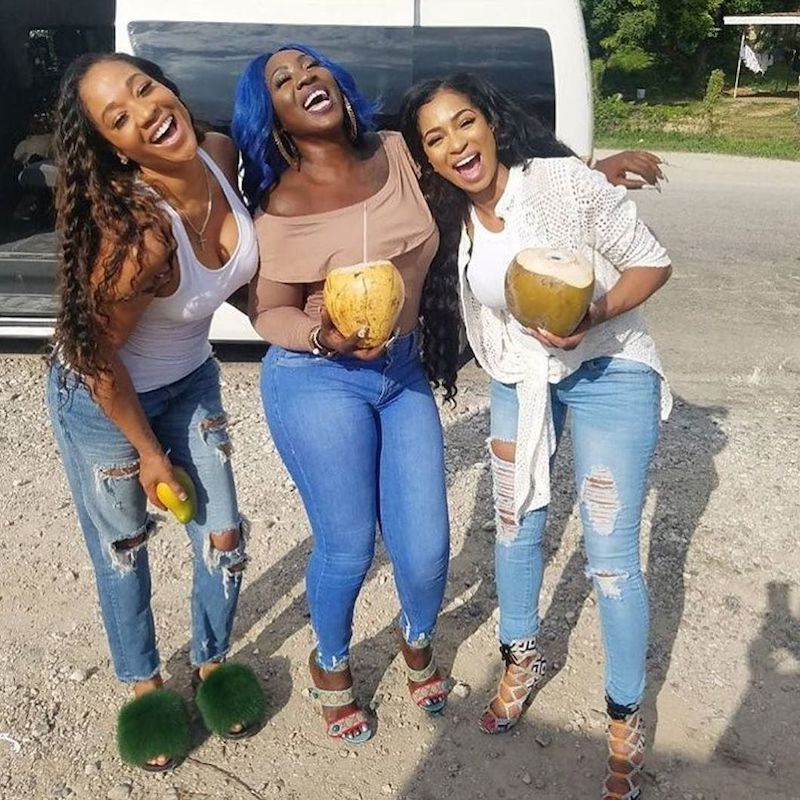 Karlie, however, seems taken aback by Spice's reaction as she says in an interview, "The fact that someone I look at as my sister would even try to do that to me, I said nothing to you, none of this makes any sense."
While the camera was rolling, Spice didn't offer any sensible explanation for her being angry and starting another fight.
"I don't want to talk about Karlie. No one will ever understand. I don't think people will ever understand that every time I love a friend they just betray me," Spice says when asked what Karlie did to her.
"You moved from the house just to what? spite me? I've been so good to Karlie Redd and this is how you repay me?" Spice is heard shouting in a scene of the dinner they had in the Bahamas.
She continued, "You're a f**ked up individual Karlie Redd," adding that when everyone hated Karlie and said she couldn't sing, she "gave her a song," but despite all of that, she was displeased with Karlie buying a home and then renting it to strangers because her daughter couldn't go out of her house out of fear.
In the meantime, fans online reacted to the entire scene, with many calling Spice out for constantly being angry and attacking people.
"So, she didn't want her living there and she doesn't want her renting it.? Spice is the problem," one person said.
"Spice… don't nobody even know who tf your kids are hell most people don't even know who YOU are. Relax," another said.
"Spice is so problematic all the time but y'all don't want to have that talk," another said while another added, "I'm sorry but Spice has been mad aggressive this season and plays victim once they snap back. She antagonizes people and needs to get off TV and heal."
Akbar calls Spice a bully
Akbar, who previously had problems with Karlie Redd on the show, surprisingly called out Spice.
"This season on Lhh ain't nobody sees how Spice is the bully [laughing emojis] and that is what gets me," Akbar wrote on Twitter.
Spice has not responded to the critics, but she did write a long caption on Instagram, which seemed to reflect on her behavior during the show and her fans constantly defending her against critics.
"I hate seeing you argue with people about me on social media. Especially since you know how I'm always happy and laughing with high spirits all the time. It hurts me deeply to the core and I'm saddened to re-live the horrific moments and to see you go through the different phases that I've brought you through," Spice wrote.
She also referenced her ongoing health issues and coping with them and seemed to hint that she needed help to deal with her anger issues.
"All I know is that I see where I'm exasperated and I need help and I've taken the steps to work on overcoming this fear and heal through my traumatic experience. Multiple times I've allowed my anger to get the best of me and for that I'm extremely sorry for taking you through so much," she said.