It seems that rapper Blueface has another star on his hand as his first baby mom, Jaidyn Alexis, shut down his latest concert held at the Globe Theatre in Los Angeles on Friday night. The rapper shared videos showing the venue full of fans screaming as they welcomed his first baby mom, Jaidyn, to the stage.
Wearing a skimpy leather two-piece, Jaidyn Alexis performed her song "I Love The Way He Love Me," and fans were feeling the performance as they sang the lyrics and screamed during the performance. Jaidyn appears to be learning the stage as she stands and performs but does not dance or do anything else.
Jaidyn entered the music industry months ago with her first song, "Stewie," which was not as well received as many booed her performance. It appears though that fans respect her hustle as they support her second performance ever.
Jaidyn's new music career stems from her relationship with rapper Blueface, with whom she shares two children.
Their lives have been nothing short of drama and in the public domain as Blueface's other baby momma, Chrisean Rock, recently gave birth to their first child, Chrisean Malone Jr.
Both Jaidyn and Rock appear to be in a relationship with Blueface, and they are also signed to his new label, Milf Music. Jaidyn was the first to sign last month, and Rock put ink to paper last week after giving birth.
In the meantime, fans at the event also screamed for Chrisean Rock, but it's unclear if both women might ever be on the stage together since there has been nothing but animosity between them, given that Rock is a side chick who ended up having a baby for Blueface and they have both fought in the past over two years.
Blueface posted to his story that she was unavailable to attend the event.
"Rock will make it next time she had a serious matter to attend to[.] We are all MILF MUSIC as far as I'm concerned they both my artist an I want them both to flourish musically shout out to both my BMs," Blueface said.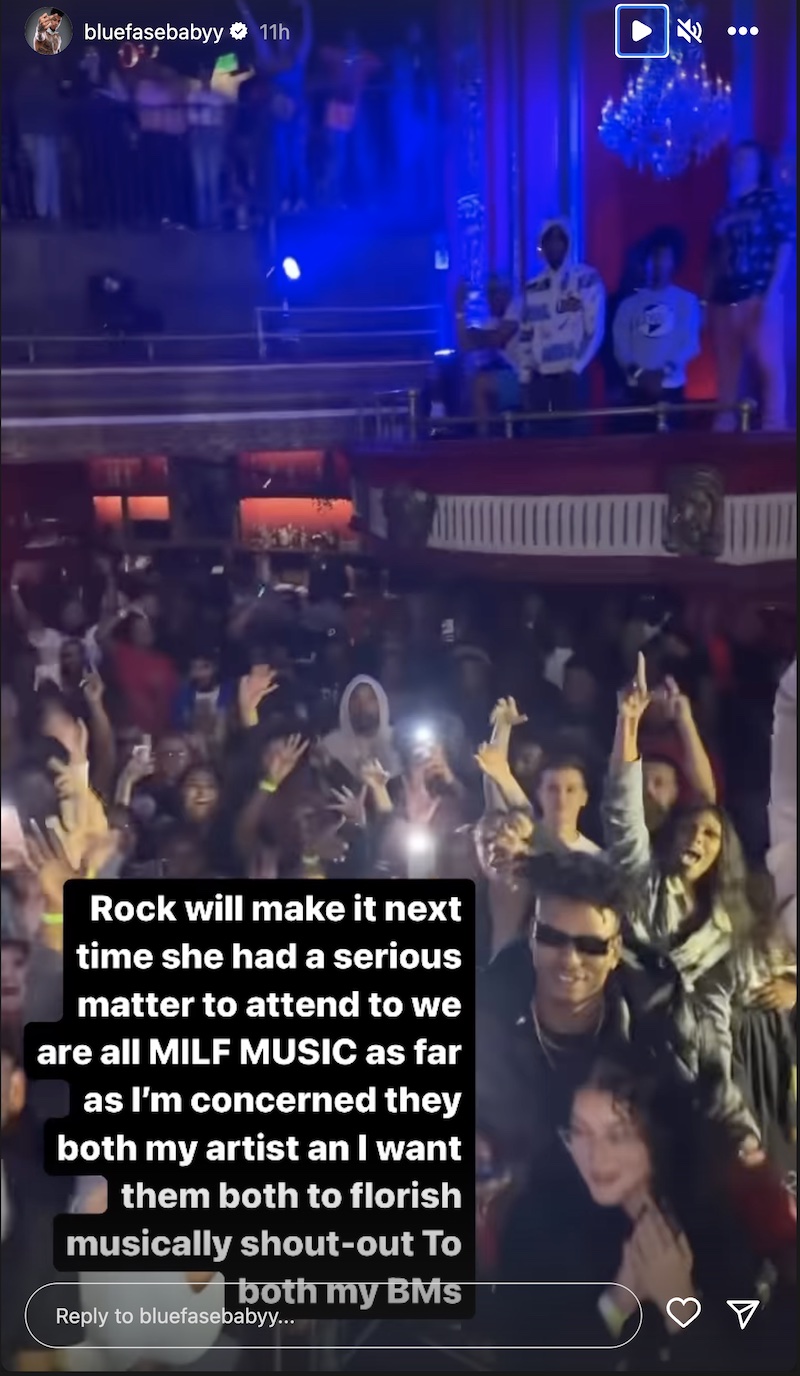 On Friday, Rock also spoke about her and Blueface's relationship and noted that "I cannot be his b*tch tho. I cannot be his girlfriend, I can be his big brother though."
She also reacted on Twitter to Jaidyn's performance, writing, "That sh*t was sold out cuz they wan see ROCK."