Popcaan is sending a clear message to anyone including fans of other artists criticizing him on social media.
The Unruly Boss has taken things up a notch as he bashed a fan who sided with Valiant in the ongoing beef between the two artistes. It's no secret that Valiant and Popcaan are not friends, but things seem to have gotten awkward in recent weeks as the artists throw shade at each other on social media.
The incident has caused fans to take sides in the drama, and many are not supporting Popcaan as they believe that he is hating on Valiant, who was a former member of his Unruly Camp but broke away to form his own Diplomats Crew, which helped to launch his career and catapult him to fame. On Friday, Popcaan did not mince words as he hopped into a fan's DM after the fan called him a "waste man" and said younger artists had a negative perception of him.
"So all I did was just acknowledge say he's a hater and say all the new gen see say ya wasteman , his fan boys came arguing, tagging me so I deleted my comment cya take the bagga man a mention me so, Five mins later the dawg hop ina me dem like him deh pon crack," the fan wrote.
Popcaan's DM was likeminded as he called out the fan.
"Yuh big stinkin p***y muma a waste, yuh member how yuh tun Groupie when you see dream doll a listen me music! Guh suck yuh muma!" Popcaan began. "B**ty bwoy a that's why them find some a unu ina shallow grave," he added.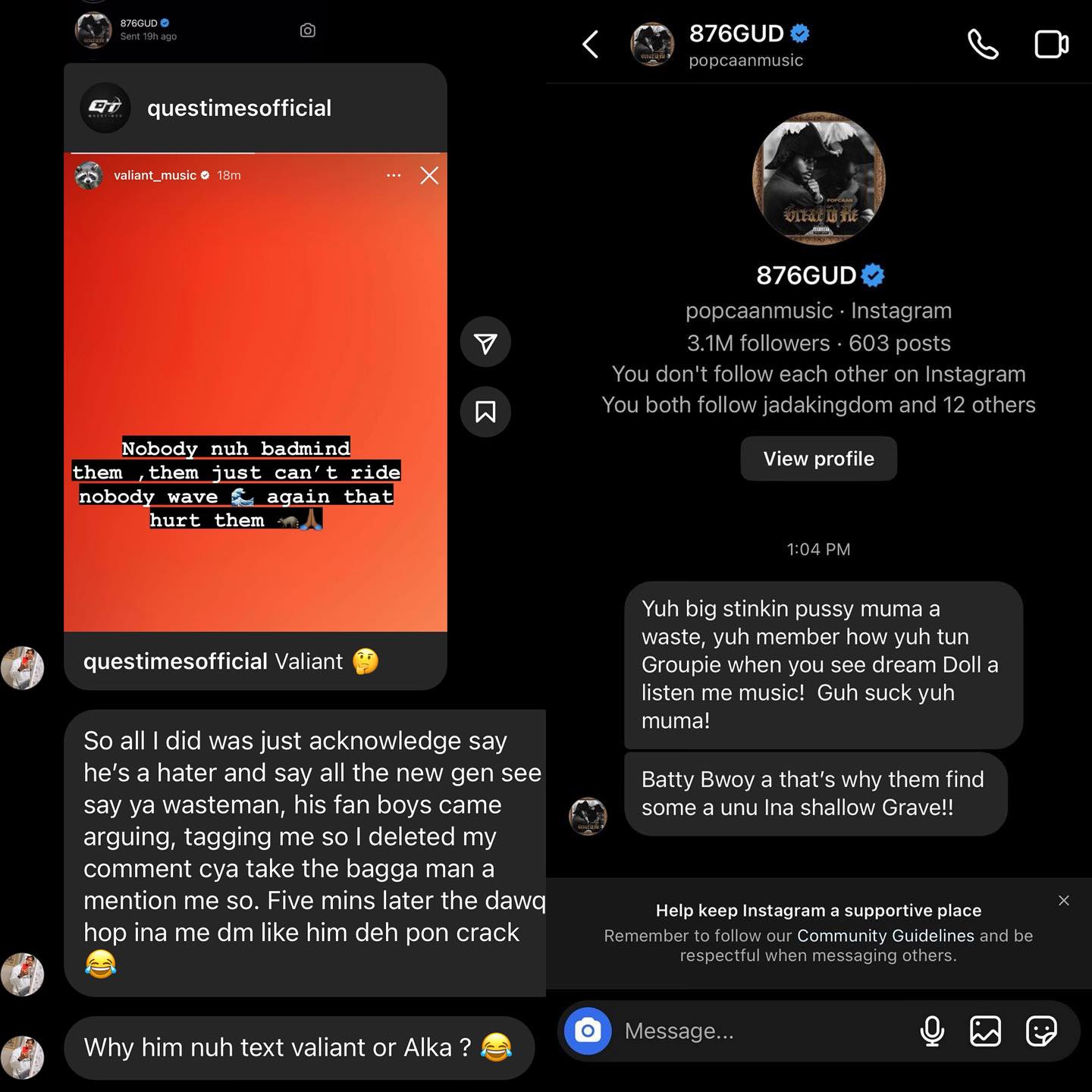 The blow-up comes days after Popcaan and Valiant subbed each other.
"Nobody nuh badmind them, them just can't ride nobody wave again that hurt them," he wrote.
Valiant was brought on stage after Chris Brown finished performing over the weekend. It's a big look for him, given that his career took off late last year.
Popcaan was a no-show at the event.