Update: Lil Tay and her brother are alive and well, the social media personality confirms on Thursday, August 10, via a statement to TMZ. She noted that the past 24 hours has been a traumatic experience for her and that her Instagram account was compromised.
"I want to make it clear that my brother and I are safe and alive, but I'm completely heartbroken, and struggling to even find the right words to say," Lil Tay said in her statement. "It's been a very traumatizing 24 hours. All day yesterday, I was bombarded with endless heartbreaking and tearful phone calls from loved ones all while trying to sort out this mess."
She also stated that her legal name is not Claire Hope, and is Tay Tian. Her statement comes hours after fans started speculating that her death statement might've been a hoax after her former manager released a statement saying he can't confirm the report to be true or false.
Original: Rapper/influencer Lil Tay's death is under scrutiny by a former manager and her fans, who are sounding off on social media.
A statement about her death posted on the teenager's social media personality yesterday sent shock waves through the entertainment industry. Per the statement, Lil Tay, real name Claire Eileen Qi Hope, and her brother suddenly passed away of unknown causes. There were initial reports that authorities are investigating the deaths, but Vancouver and California police departments say they have no reports about their passing.
Last night, Lil Tay's Instagram bio was briefly updated to say "help me," and another account purported to be her brother shared a message alleging that the original statement might not be totally true.
Additionally, her last known manager, Harry Tsang, has since released a statement saying he can't confirm whether or not the shocking statement is true. "Given the complexities of the current circumstances, I am at a point where I cannot definitively confirm or dismiss the legitimacy of the statement issued by the family. This situation calls for cautious consideration and respect for the sensitivities involved," Tsang said.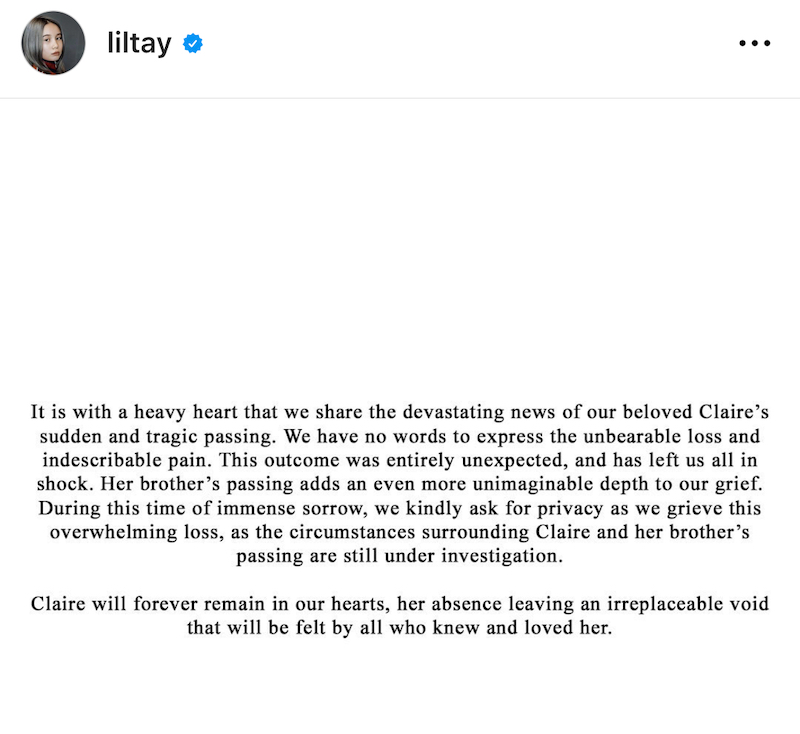 Another unnamed individual claiming to be a former manager spoke with The Sun raising questions about the statement and why it was not signed by a family member.
"One thing I would question is who posted that statement and why isn't it signed by anyone from the family," the ex-manager said. "Why is it not signed, 'This is Tay's mom,' or 'This is the dad of Lil Tay,' or from an official representative? Why is there no attachment?"
Past allegations of abuse by her parents are also back in the public eye, with her supporters on social media demanding more information following the announcement of the 14-year-old influencer's death.
Lil Tay rose to fame in 2018, when she was only 9 years old, by posting videos on social media, including on YouTube, flexing cash and luxury items like cloth and exotic cars. She even earned some celebrity fans, including Chief Keef, XXXTentacion, and Bhad Bhabie. It was later uncovered that the houses she was flexing on social media were actually houses on the market since her mother is a real estate agent in the Vancouver suburbs.
Lil Tay then vanished from social media for the past several years, only for her Instagram account to return with a statement about her death.