Gen Z rapper/influencer Lil Tay, who became famous for flexing her wealth on social media, has died suddenly along with her brother.
Lil Tay, whose real name is Claire Hope, rose to fame as a social media personality/YouTuber in 2018 when her channel started posting videos of her flexing stacks of cash and luxury items. At the young age of nine, she dropped skits and rap songs with curse words leaving some of her followers to question her parenting.
On Wednesday, August 9, Hope's family shared a shocking statement on her social media pages, notifying her followers that she passed away "suddenly" along with her brother. No further details were given except that sources say their deaths are being investigated by authorities.
"It is with a heavy heart that we share the devastating news of our beloved Claire's sudden and tragic passing," the statement shared on Instagram reads. "We have no words to express the unbearable loss and indescribable pain. This outcome was entirely unexpected, and has left us all in shock. Her brother's passing adds an even more unimaginable depth to our grief."
"Claire will forever remain in our hearts, her absence leaving an irreplaceable void that will be felt by all who knew and loved her," the statement reads.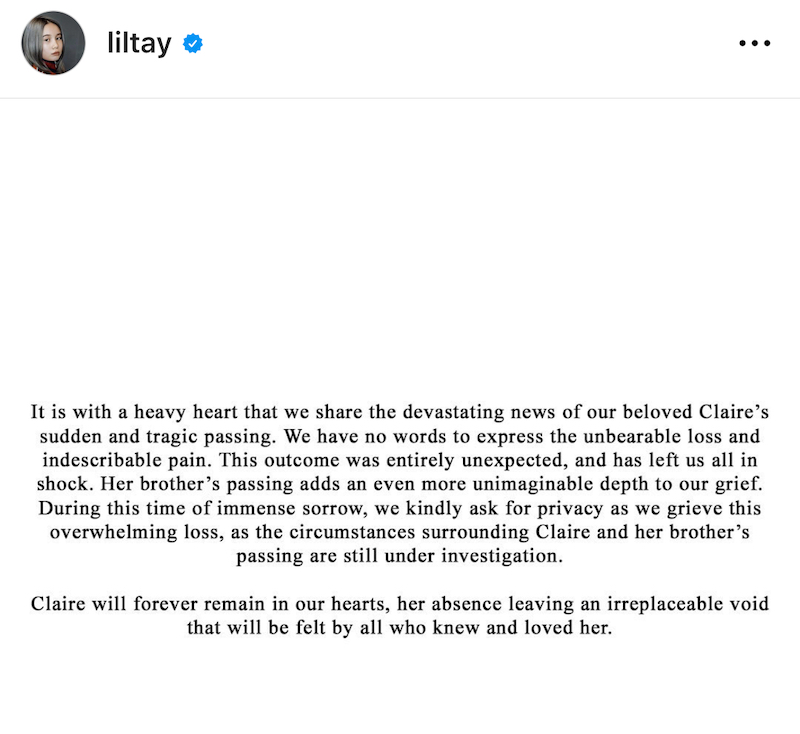 The statement was the first post on her Instagram account in 5 years, leaving some fans to raise more questions about her "sudden" passing.
Lil Tay became a viral sensation, especially among her Gen Z fans, when she proclaimed herself richer than your auntie and the "youngest flexer of the century" with videos filmed in Beverly Hills and other places famous for the rich and famous.
Social media investigators later found out her mother is a Vancouver realtor name Angela Tian, who used the homes of her clients that are on the market to film the videos Lil Tay has been featured in. Perhaps that led to her decline, but she has been missing from social media for the past few years.
Lil Tay and her mother even did an interview on Good Morning America pushing back against allegations that she was being exploited to film the videos for fame and money, with some folks accusing her parents of abuse. Tian made it clear that she was never involved in the production of the videos, nor did she force her daughter to do the videos. She said it was purely Lil Tay and her brother's idea.