Dancehall artiste Vybz Kartel is showing support for his attorney Isat Buchanan who is currently facing major backlash for his comments directed at Jamaica's Director of Public Prosecution, Paula Llewellyn.
Last week, Isat had very crude words for the DPP as he quoted a lyric from one of Vybz Kartel's songs where he told the DPP to "suck a c**ky." At the time, he was joining in on a discussion regarding the government's decision to extend the age of retirement for the office of the DPP as well as the auditor general.
Many, including Isat, were not in favor of the amendment, as it would have caused the DPP to have an extended term in office. The discussions were very political, but for Buchanan, he repeated his client's acrimony.
The trio has been at odds in the past, especially regarding Kartel's case, where Isat had lamented to the media that the DPP was employing "shady" tactics in releasing the phones to be tested by an independent forensics expert.
Kartel's attorney said the delay caused the artiste's filing to the Privy Council to be protracted. Buchanan was later reported to the General Legal Council (the oversight body for attorneys) by Llewellyn.
However, the GLC found that Isat was not in breach of the Canons of Ethics when he referred to the DPP being "shady." However, he was found in breach of the sub-judice rule, which requires that lawyers refrain from speaking about live matters before the court with the press.
With the latest incident involving the DPP, there are reports that many complaints were lodged against him. The attorney is facing possible suspension or disbarment and has already suffered much embarrassment when he apologized for the lyrics used and has also withdrawn from his position as head of the human rights committee of the People's National Party.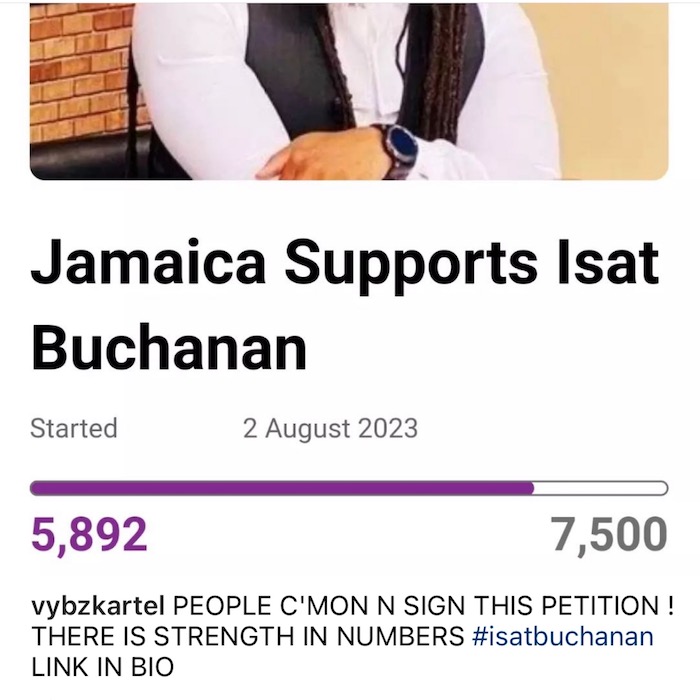 However, thousands of people are supporting Buchanan, including Vybz Kartel, who reposted a link for a change.org petition that reads, 'Jamaica Supports Isat Buchanan'.
"People c'mon n sign this petition! There is strength in numbers," Kartel captioned a screenshot of the petition.
The petition has racked up almost 7,000 signatures since it was launched days ago.