Chris Brown and Ammika Harris appear to be going strong as the "Loyal" singer posted a photo of him embracing her from behind and a sweet message to celebrate a new decade of life.
On his Instagram Story, the artist shared a photo of Harris smiling as she is hugged by Brown, who is wearing a long sleeve sweater and sporting dark shades and blue hair. "Ammika's 30th," the photo is captioned, while Brown added "Dirty 30" with several hearts.
Brown and Harris have been spotted together quite a bit this year following reports that they had broken up after he had a daughter with another woman named Diamond Brown.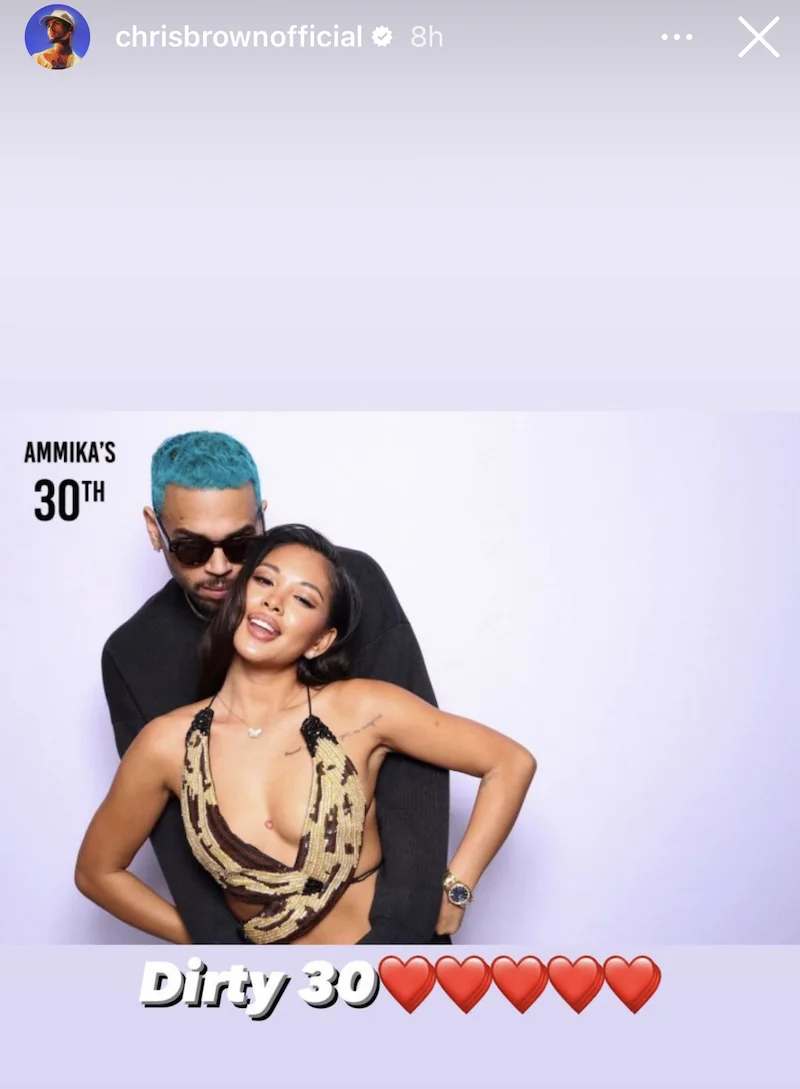 The post also comes two months after a woman who claimed to be a friend of Harris reportedly revealed that he had punched Harris in her ribs while they were on a group trip in Tulum.
"Man, I do not care what nobody says Chris Brown is a woman beater. When I vacation with them in Tulum he beat Ammika's rib cages into the point where she had to call in a doctor to make sure nothing was broken," the woman had claimed.
Despite those reports, he and Harris were seen several times last month partying in the club, and Harris was also backstage with her and Brown's son, Aeko, when Zeus reality star Tommie Lee went off on a rant and tried to kick down the door so we can get to interact with Brown's son.
Harris appears to have moved back to Los Angeles from Germany, where she relocated along with her son for work.
The model has not yet shared any posts for her birthday, but she did share a few snaps of herself with Aeko while shopping for Mother's Day.
Chris Brown welcomed his third child in January 2022 after model Diamond Brown gave birth to a baby girl named, Lovely Symphani Brown.