Spice received the Impact Artist of the Year award for her contribution to black culture from Congresswoman Yvette Douglas last weekend.
Spice was in New York, where she performed at Club Amazura, and after her performance, the Congresswoman revealed the award on behalf of the Young, Gifted, and Black (YGB) Entrepreneurial Awards, which previously honored artists like Busta Rhymes, Fat Joe, and others.
During the session, YGB President Carl Gray revealed that the award was publicly fan-voted by people worldwide who felt that Spice deserved the recognition.
Spice also received additional recognition from Congresswoman Clarke and the United States House of Representatives, which outlined Spice's 'seasoned' career over the decades and her many achievements, noting that the proclamation was in recognition of Spice's "distinguished and positive contributions which make our nation great," and is the highest honor as a member of the 118th session of Congress.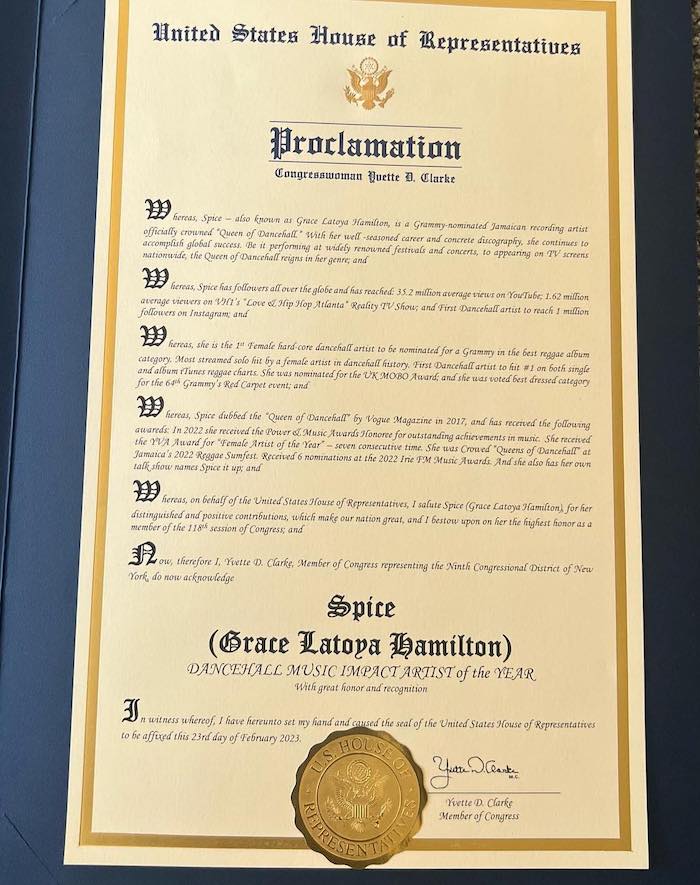 Spice had a health scare last year that she said nearly killed her. The artist had been out of the public's eye for six (6) months, but she is back and has released several motivational songs as she shared her gratitude to God for sparing her life.
On Saturday, she celebrated the recognition.
"I'm humbled and honored to be awarded with the Impact Artist of the Year from the United States ?? House of Representatives. Besties we name a call up inna New York congress. Look at God. Look at the little Gracie the poor girl from Old Braeton receiving Proclamation," Spice captioned a series of photos of the awards.
Spice also shared that she received a certificate of recognition from New York's Mayor, Eric Adams. The Certificate of Recognition was dated February 22, 2022, and said Spice was being honored for "your many accomplishments, your drive, innovative thinking and unparalleled resolve have not only carried you to great success and prosperity, but they have also redefined your field and strengthened your community."
The certificate added, "Through your work, you have highlighted the excellence and unlimited potential of all Black people and served as an inspiration to people of all backgrounds. I am pleased to join Young, Gifted and Black (YGB) for its Entrepreneurial Awards in commending your enduring positive impact throughout New York City and far beyond."
Spice also thanked her fans for their constant support and added that "as long as unu recognize my hard work and input to our culture mi good."