Worst album and Drake are not things the Canadian rapper feels should be in the same sentence as he defends his album Scorpion as the worst of his catalog of albums.
The suggestion that Scorpion is Drake's worst album was recently put to the artist by hosts of the Shots Taken Podcast. A now viral Tik Tok video had made claims calling the 25-track album "dumbest sh*t ever." The same video, however, ranked Drake's 'Take Care' and 'Nothing Was the Same' as his top albums.
Drake appears to be seeing the debate online after the hosts named some of the biggest songs from Scorpion, including "God's Plan" and "Nice for What," but noted it wasn't enough to bring off the entire album.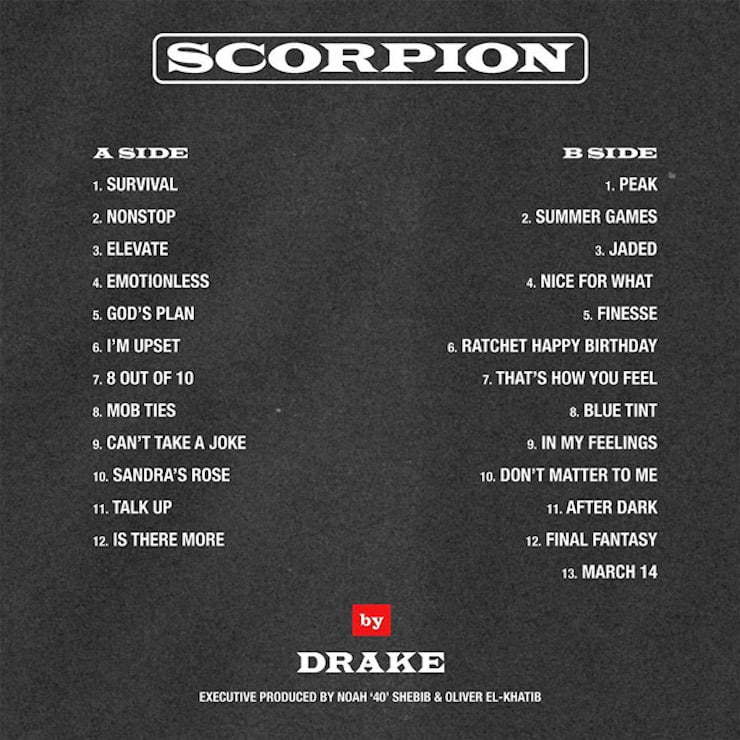 "If you compare him to other artists, this is probably still a better album than a lot of people's albums," one of the hosts said.
Drake, however, disputes the host's claims writing in the comments section a reminder of the best songs from the 2018 project, which includes some of his biggest hits like "God's Plan."
"Gods Plan, In My Feelings, Nice For What, Nonstop, Jaded, Is There More, Sandra's Rose, That's How You, Feel, Emotionless…… slappppps on [Scorpion emoji]," he wrote.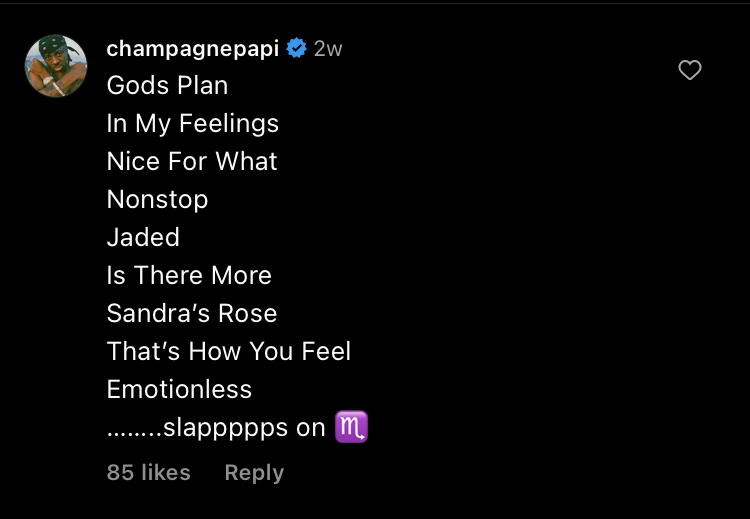 Drake dropped his fifth studio album, Scorpion, on June 29, 2018, under Cash Money Records, Republic Records, and Young Money Entertainment. The project debuted at No. 1 on the Billboard 200 chart with sales of a whhopping 732,000 album-equivalent units in its first week, furthering cementing Drake's dominance. The album saw guest features from Drizzy's longtime collaborator Future, as well as JAY-Z, and Michael Jackson.
Scorpion was also one of the quickest albums to be certified platinum by the Recording Industry Association of America (RIAA) within 24 hours of its release. The album's numbers were due to several chart-topping songs being included on the project, like "God's Plan," "Nice For What," and "I'm Upset," which is a rumored Pusha T diss track. However, this caused Billboard to change its chart rules which Drake appeared upset about as he accused the company of trying to curtail his success.
"I mean, at the end of the day, ever since we were dunning off the charts from Scorpion, they fixed the charts anyway," Drake has said on DJ Akademiks podcast.
Speaking of top albums, last year, Drake said his latest album, 'Her Loss' was among the top albums.
"[Her Loss] is one of the greatest albums I ever made in my life," he declared. "I said the other day, I think this is a clear entry into my top five of my catalog — if not, top three," Drake said while revealing that the album closed out a trilogy starting with Certified Lover Boy and followed by Honestly Nevermind.