42 Dugg denies that he's about to spend five more years in jail after pleading guilty to a separate charge in relation to his possession of illegal firearm charge from 2020.
Reports by Detroit media on Thursday suggested that the rapper might be away for some time as he accepted a guilty plea deal that sees him spending more time in jail. Detroit News reported that the rapper recently appeared in court, where he admitted to the court that he deliberately did not follow court orders to show up to serve a six-month sentence for unlawful carrying of a firearm.
The rapper's legal problems stem from a 2020 felony charge for possession of an illegal firearm case in which he was ordered to serve a six months sentence. Instead of turning up to complete the sentence, he went off and continued with his life- buying a multi-million dollar home in Georgia and releasing music.
He was later tracked down and arrested by several agencies collaborating to bring him to jail. The Detroit News report has not quoted any reliable source for the information published, and 42 Dugg says it's all a lie.
"Cap," he wrote on his Instagram Story, leading fans to think he is responding to the latest news report, which has since gone viral.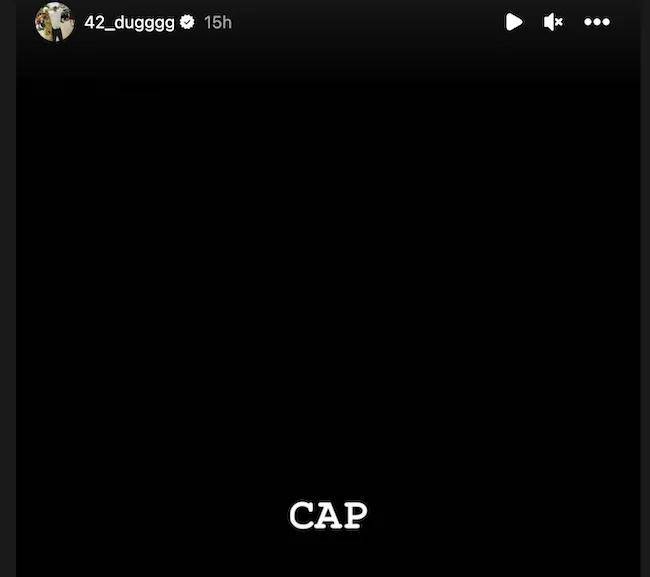 The Detroit rapper, whose real name is Dion Marquise Hayes, is famous for songs like "You Da One" featuring Yo Gotti, "Maybach" with Future, and "Last Ones Left" with Est Gee, recorded before his arrest. Since his incarceration, his career has obviously stalled, but he continued to release songs like "Soon" and "IDGAF" in 2022.
He also released a collaboration with Lil Baby and Veeze called "U Digg," released in June 2022, "Like Me" with Future, released in May 2022, and "Period" with Lil Wayne and Lil Baby, released in October 2022.