Atlanta super producer Metro Boomin says he spoke to Young Thug recently, and the rapper appears confident he'll be coming home soon, and he also had a message for his fans and followers.
Metro Boomin appears to be caught in a one-sided feud with DJ Akademiks on social media after the former asked that the embattled blogger not use anything about him for content on his account. DJ Akademiks appeared offended and refused to comply with the request. Following his rant on Twitter, he reposted a Story from Metro where the rapper spoke about talking to his friend, Young Thug, who is presently held at Cobb County jail, and his hope of being released soon.
"Talked to [spider emoji] today and jus kno when he touchdown the whole [world] gon feel it," Metro posted.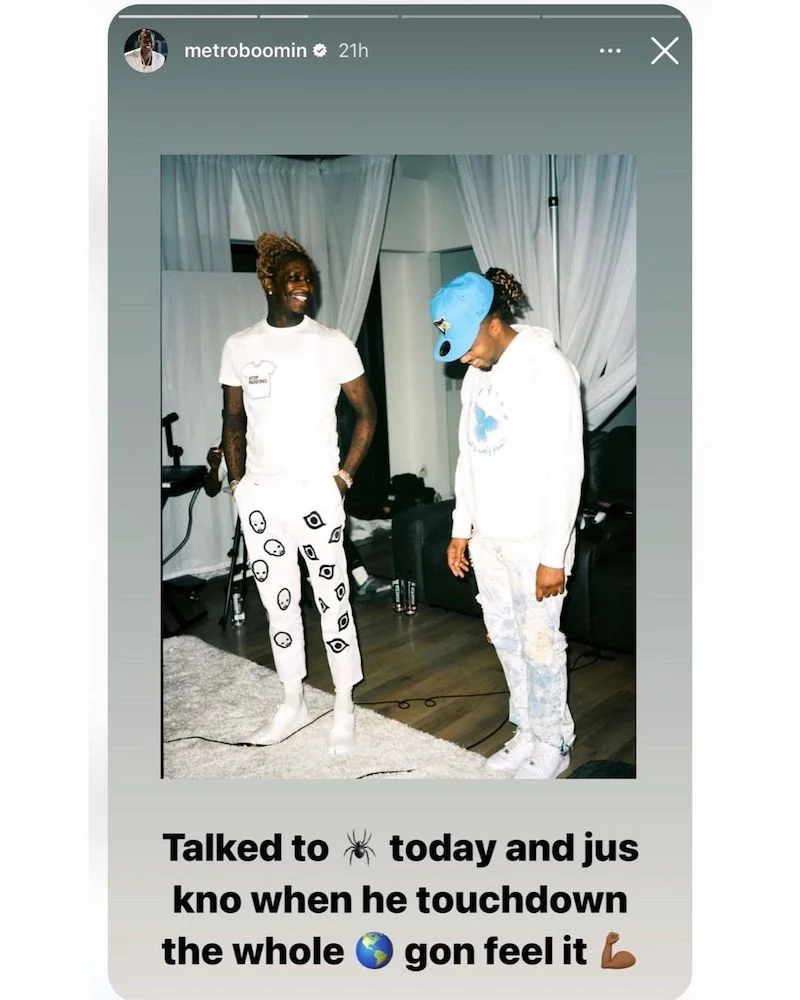 Young Thug is presently incarcerated as part of a RICO trial involving him and a dozen others who are accused of committing crimes as a gang and that the rapper's label, YSL, is a gang, not a music outfit. The trial began at the end of January (2023) and is still in the jury selection stage, with conclusion dates estimated to be months from now.
Despite Thug remaining steadfast in the trial, many of his co-defendants, including his brother Unfoonk and his protege, Gunna, and half a dozen others, all accepted plea deals to corroborate that YSL is a gang. The plea deals, which were all Alford pleas, allowed the defendants to plead guilty without admitting guilt, but many hip-hop fans have viewed the deals as nothing more than an effort to ensnare the big fish- Young Thug.
In the meantime, Metro Boomin and Thugger are close, with the producer sharing regular updates on his conversation with the artist.
While on Streetz is Watchin Radio in January, the producer said he believed that Thug was blessed and strong and he has faith he'll be fine despite the serious charges he is facing.
"I be talking to him, he's blessed man," Metro said. "Anybody know Slime know he got a heart of gold but he got the heart of a warrior at the same time so like, he got his head up. And I pray for him every single day, even since everything first happened, I pray for him every single day."
Metro Boomin continued, "Man that's my brother I love him to death, and he done helped me a lot with a lot of stuff that I been going thru this past year. And on my faith, I'm confident that he's gonna be alright."