Popcaan and 6ix camp leader Squash clash on Instagram triggering a brewing beef.
Conflict seems to be brewing between dancehall artists Popcaan and the 6ix Boss Squash, who traded shots at each other on Friday afternoon and leading to Squash releasing a diss track directed at Popcaan. Squash released two statements on his Instagram account which Popcaan fans have deciphered as being directed at the 'Great Is He' artist.
On his Instagram Story, Squash shared laughing emojis as he warned Popcaan that he was a "badman inna real life."
"A joke ting diss kmt. Me not even meds deh likkle s–k wood ediot boy deh song dem much-less have yiy fi see em," Squash wrote.
"Tell deh likkle sadamite deh fi know em self kaah me and em anuh the same me a badman ina real life," he wrote. "Chip glock now dem fraidy yf," he added.
In another post, Squash ensured that Popcaan knew whom he was referring to as he seemingly mentioned the St. Thomas artist's mother, Miss Rhona, in another response four hours later. "Me nuh go back and forth wid [clown emoji]," he began. "you and none a you gun bag fren dem cyaa diss me try know dildo tongue boy."
He added, "You and you wull family a s—-ite big b**ty boy go tun rhona a you head and belch and burp bad me bad ina real life."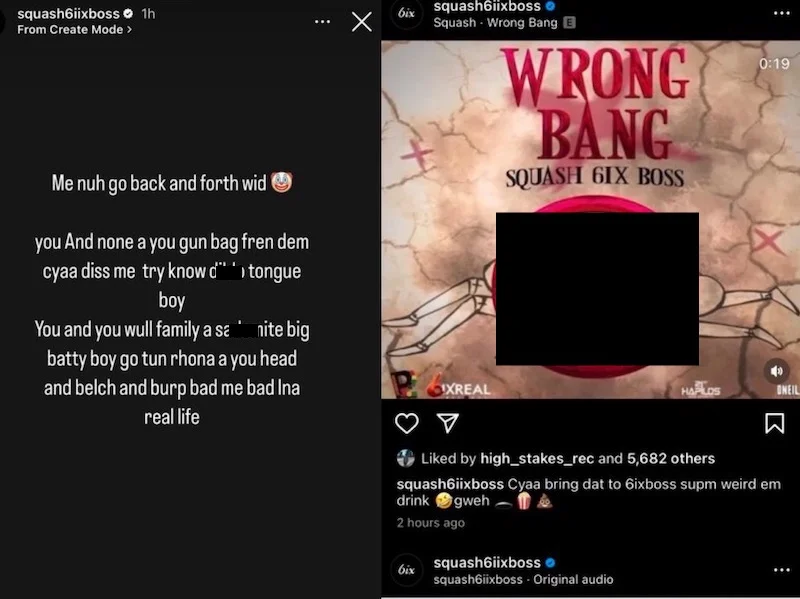 It seems that Squash is responding to a video in which Popcaan allegedly heard saying, "…b***ty boy Squash."
Popcaan also appeared to be unapologetic as he posted an Instagram Story responding to Squash's first Story writing, "Anything Unruly say we defend that!! S–k yuh muma!"
It's unclear what led to the artists beefing and to be disrespecting each other's mother on social media. Squash has also released what sounds like a diss track hours after the video of Popcaan dissing him was shared on social media.
In the song "Wrong Bang," Squash does not name Popcaan but says "nasty boy gweh" as he sings about his disapproval of others who prefer sexual relationships with men as well as men who perform certain sex act known to be taboo in dancehall.
Popcaan has not responded to Squash song as yet.
This would be the second artist Popcaan has publicly disrespected another dancehall artist. Months ago, he called out Shaggy and Solid Agency's Sharon Burke, whom he insinuated messed up his sound and mic at the Burna Boy concert in Kingston because he disagreed with the production of the show. There are reports that Popcaan had refused to have other artists join the stage with him and Burna Boy, and this led to a falling out between him and Burke and Shaggy, who captained the production of the show. Popcaan had some choice words and names for the two, but neither has responded or given him the time of day.