T.I. further shut down Boosie Badazz snitch allegations by showing receipts.
Rapper T.I. is providing paperwork to prove that he never snitched or cooperated with authorities and is now challenging those who question him about joining him to have a "paperwork party." On Thursday, the Atlanta rapper shared a note and the front face of a court document seemingly to back up his earlier statements that the story was embellished and not true but merely an illustration that went over people's heads.
"FYI…. can't nobody who got dey name in other people's paperwork question me about mine!" Tip wrote on Instagram Stories. "I got it on me…we can have a paperwork party… PULL UP or [hush emoji]."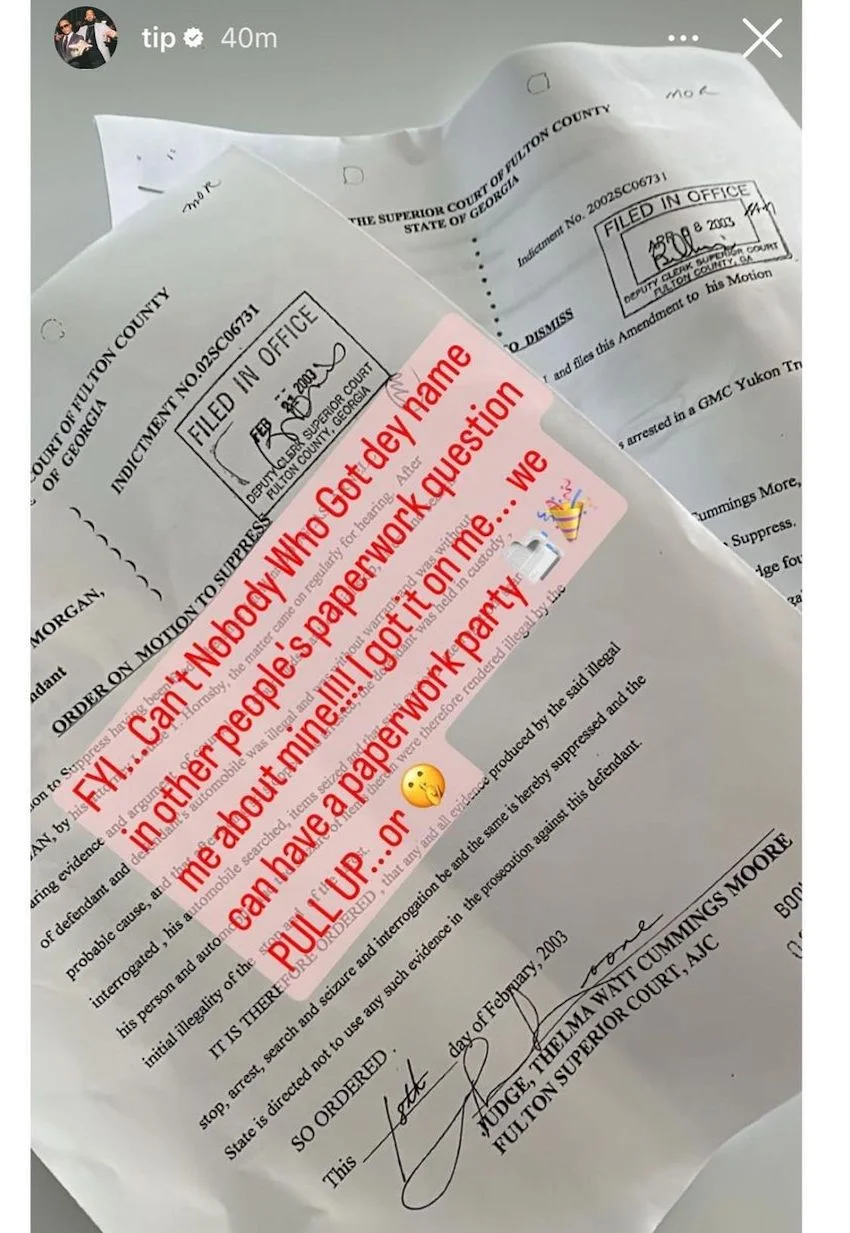 T.I.'s did not directly mention Boosie, who spoke on the comments he made during a podcast aired in 2020 but going viral this week. Some in the hip-hop community speculated about Tip's previous dealings with the 'authorities' due to his comments that he had a conversation with his dead cousin, Toot, to pin gun charges on him so he could get off since cops can't get the dead.
Boosie said in a Vlad interview this week that he didn't believe Tip as he never mentioned the incident during their decades-long friendship, and he believed Tip was going for podcast views when he made the comments. Nevertheless, Boosie takes a hard stance against all snitches and says that if the story is true, T.I. is no better than a "rat," and he is ready to call their joint album off. Tip also blasted Boosie yesterday for running to the internet instead of speaking to him, and he also clarified that the comments were taken out of context.
"It came off a conversation I was having with my patna and I were having and that conversation was 'hey bruh if me and you catch a case together and I die before you, it's mine'…" off of that conversation, I created a set of circumstances and I thought that the embellishment was clear when I said that I talked to my cousin and he told [he was ok,'" T.I. said to Richard Benjamin from Trapper of the Trap News Network podcast.
The rapper added, "humour, satire and sarcasm, it escapes them."
On Thursday, 50 Cent also trolled T.I. over the incident as he reshared an edited video of Boosie's Vlad interview juxtaposed alongside T.I. on the podcast as if they were in Judge Mathis' courtroom.
Whether the shots were for Boosie or 50 Cent, we'll have to wait and see who responds.
Charleston White Defends T.I. while calling out Boosie Badazz
In the meantime, self proclaim 'snitch' Charleston White weighed in on the conversation and called out Boosie for having it easy in jail and implying that he might have received some favors in jail.
"Lil Boosie, you hollering you the last one left…Little Boosie, you must forgot Little Boosie Terrence Hatch, I know the n***as you was in Angola with. Don't let me call Eric E-Solid up.… you did not walk the yard with killers in Angola. You was over there, you wasn't over here. You was over there, you was not in population with the killers, the lions, gorilla, the burrows, the snakes, the tigers, the possums, and all the things the dangerous spiders they got lurking in Angola prison," White said.
White called Boosie a "gazelle," noting that his time in jail was nothing to talk about.
"You need to apologize to Tippy. F**k you talking about because it ain't no paper. And everybody in the streets knows if it ain't no paperwork it ain't no go…You ain't stand on a muthaf**king thing, Boosie safe as it was for you," White added.
Meanwhile, fans were not convinced Tip was truthful.
"Google mandatory minimum sentencing and federal guidelines for automatic weapons and silencers and tell me TI not a snitch… I'll wait," one person wrote.
"The more Charleston keeps defending T.I. "Tippy" Harris the more I believe that Clifford had to told on something else other than his dead cousin," another said.
Boosie has not responded to White as yet.