Vybz Kartel's baby mother, Tanesha 'Shorty' Johnson, is not here for the recent allegations by gossip blogger Shelly-Ann Curran who alleges that Popcaan and Shorty had a history.
Curran had a masked guest on her show on Friday night who claimed to have all the tea on dancehall artist Popcaan. The woman wearing red and black with a scandal bag on her head and a plastic mask on her face claimed that Popcaan had a side chick who was upset about the size of his member.
"Mi hear say him nuh pass seven (inches)," the woman said when asked about Popcaan's side chick. The woman also identifies the supposed side chick. "Boy, you have to go ask Allison off Romeich Entertainment dance crew," the woman says when asked if Popcaan was mean. "Mamacita, man, the girl weh come inna him video, she leff him and go breed for the scammer boy," she continued.
Later in the interview, the woman also claims that Popcaan and Shorty were allegedly sexually involved, and that has caused a rift between Vybz Kartel and Popcaan.
"You see with Shorty now, mi nah say it fi reach her but back pon Poppy, all Poppy go deh so enuh. Kartel a pree Shorty hard for Popcaan enuh," she began.
"Shorty did deh with Popcaan.Yeah man, Shorty did a trouble Popcaan, Popcaan did a trouble Shorty, that's why Kartel did take her out of the car and now see ah the the house…That's why when she drive out with the car, him did sen' fi it, now ah di house she out of," the woman added.
"S*** yuh mada nasty gal. First me ago reply to something like this. Unuh a try EVERYTHING and me nah response to unuh," Shorty replied in a comment on Instagram.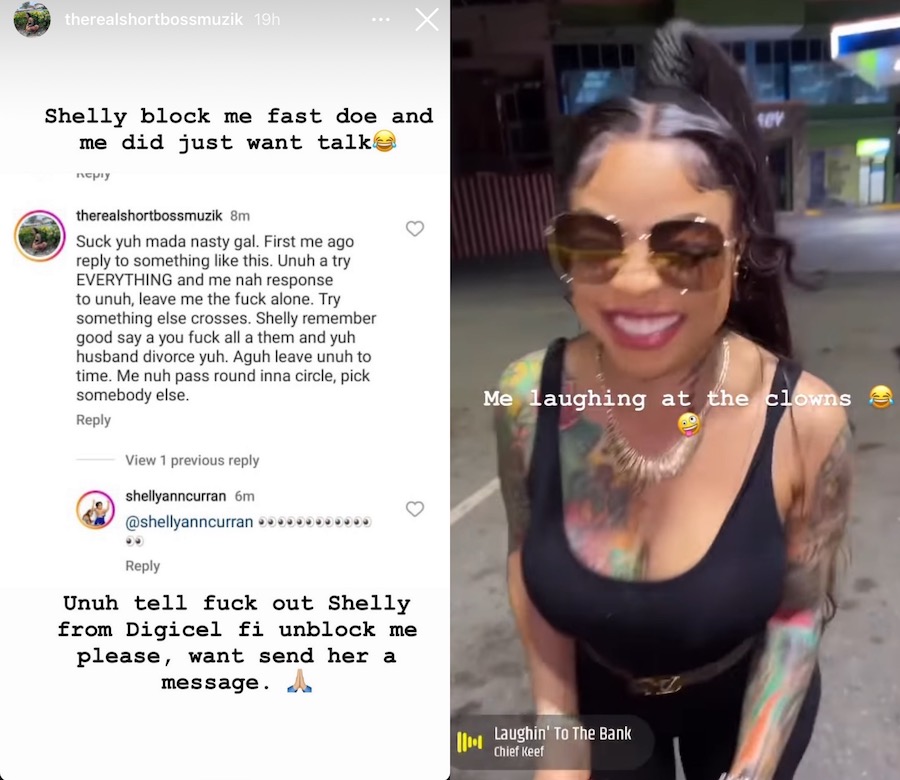 "Leave the f**k alone. Try something else crosses. Shelly remember good say a you f**k all a them and a yuh husband divorce yuh. Aguh leave unuh to time. Me nuh pass round inna circle, pick somebody else," she added.
Shorty also said that Curran was quick to block her when she tried to talk to her.
Curran also responded to Shorty, telling her to follow her other pages.
"Ask her why her ex husband BLOCK Me…me did dying fi Block back somebody. Since the 2 a we s***y s***y and have No Husband ask her to join me on #teatimewithshelly," Curran said.
Shorty added another comment on her Instagram page. "They will do anything for clout, while I'm over here unbothered and have them busy."
Vybz Kartel and Tanesha 'Shorty' Shorty have been on and off since he went to prison. The artist, however, recently shared he was engaged to a woman named Sidem Ozturk late last year. Shorty has never spoken about the reason for the breakup between herself and Kartel, but it appears Ozturk is now residing at the artist's house.
In the meantime, Popcaan also shared birthday wishes with Vybz Kartel on Saturday.
"More life and prosperity sir Azim Appreciate everything G, Stay up and keep the meditation sharp!! Freedom is all I wish for you. Blessings on Blessings," he wrote but did not tag the artist.