Keith Murray has been making the rounds in the past two days as he shared outrageous claims that he was sexually involved with rappers Shawna and Foxy Brown.
A bizarre clip of Murray in an interview with The Art of Dialogue has left fans stunned after he claimed to have been sexually involved with two high-profile rappers from the 90s.
During the interview, Murray begins to speak about Shawnna, whom he not only claims he was involved with but also did a demonstration of what took place or rather what he did to the rapper.
"Shawna is another one that got away. Shawna is very, a beautiful woman to me. Shawna is a beautiful woman to me. Then me and Shawna took a liking to each other. Drew used to road manage me. We was in Miami, so Shawna was there," he began.
"We connected. Walked over to the hotel. Her friend was in the room and Drew was there and Shawn was in the bed like this. So the bed was there and I walked up to the bed and I was touching the feet then massaging her massaging her you know, she was voluptuous in the legs…open the legs. Boom bang, Ooh I started eating the pu**y…Then I'm like Drew Drew get the condoms get the condoms…y'all I was wilding, that was my girl, you know I had encounters with her," he claimed.
Damn Keith Murray, you're a cornball for this. pic.twitter.com/Dy4FP0LrDA

— E___????? (@Ed_naaa) December 29, 2022
Shawnna, however, seemed to find the account funny but also chided fans for believing everything they hear.
"If y'all here bc of Keith you can gone back home [laughing emojis] I know you leaf heads stick together. Goofy b*tches, I coulda agreed you dumb mf," she wrote in a graphic posted to her Instagram feed.
"Y'all believe anything. Get help," she added in a caption. In a separate interview, Murray also made similar claims about Foxy Brown.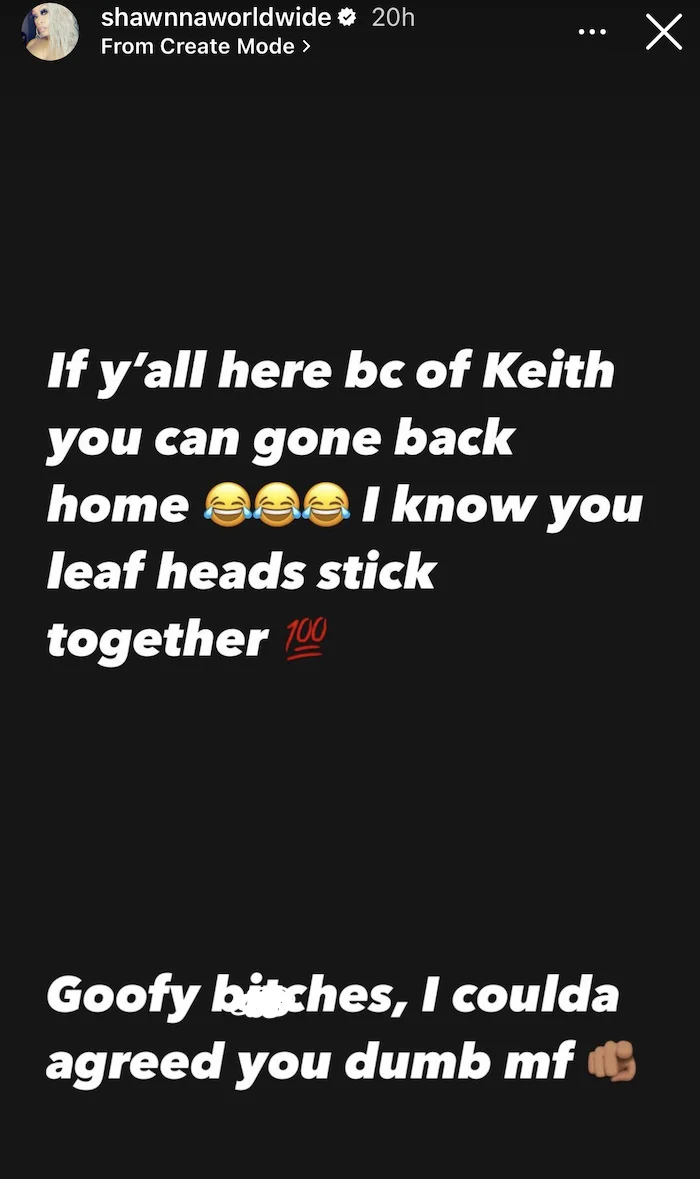 The Def Squad artist claimed that after a performance with his crew, he met up with Foxy Brown backstage, after which they hooked up.
"After the show, [Def Squad] rocked hardcore, went into the hotel, and she gave me hardcore head," he said. "And I ate her p**sy but I never f**ed her…she gave me head, wapping me off," he claimed.
Murray claimed that when they left the hotel, Foxy's then-boyfriend Kurupt was walking towards them, and he quickly "sprint off" as he and Kurupt were in the middle of the East Coast vs. West Coast rap beef.
She also disparaged Foxy adding, "that's when I knew females are no f**king good. She's a main artist, wopping me off, married to this dude. But I don't know if they were married at the time. It was around that era and they was beefing with the other girl Kurupt was with at that time. Word."
On Thursday, Foxy also responded to Keith Murray's writing on her Instagram Stories, "N****Z aint pop since I shot ya [crying emojis]."