Burna Boy is facing serious heat after a video surfaced of him giving the boot to a fan who tried to climb onto the stage while he performed in Lagos, Nigeria.
Burna Boy's Love Damini concert was scheduled for Eko Energy City in Lagos, Nigeria, where the Afrobeats artist was to perform around 9 PM. Irate fans on social media explained that the artist arrived more than six (6) hours late to the event, and he became upset at fans who booed him and chided him.
In one instance, fans say that Burna Boy had them waiting in cold weather and then told them that there were some technical issues with the equipment.
"I still love you and we are still here so if you are not going to love me God will punish una," Burna Boy told fans in a sort of apology to fans who were loudly booing.
There is also a video showing the artist on stage where he spots a fan attempting to get onto the stage, but instead of calling security, the artist proceeds to kick the fan in his face. The artist has not addressed his actions, but it seems that he might have been aggravated by fans attempting to crash the stage. In another video, a woman is hoisted away by two security guards after she runs onto the stage.
Fans online criticized Burna Boy for the way he treated his fan in contrast to how he treats fans in Europe and in North America, where he has been photographed helping up white fans on stage.
"Burna Boy to White People: "My Africans are suffering. Dance to my music, brand me a reformer, and reward me financially. Burna Boy to the suffering Africans: "God punish una," one concertgoer wrote.
"Imagine what burna boy had to say. Zero apologies. He really thinks the concert was a favor to Nigerians," another said.
"He only kicks his Nigerian fans," another said while sharing a photo of Burna Boy helping up a Caucasian fan on stage and hugging him.
Burna Boy gave a fan the boot at his show in Lagos pic.twitter.com/KyloTI94b6

— Urban Islandz (@urbanislandz) January 3, 2023
He only kicks his Nigerian fans ??? pic.twitter.com/BCWqEOlx0r

— big timz ?? (@timiPR) January 2, 2023
Burna Boy and his stage antics, without fail, make news headlines as the artist has no qualms about disrespecting fans that come for him. In a separate incident months ago, the artist was spotted stopping his performance and digging into the pocket of his orange trousers to give a grumpy fan back his money.
In the video, he says, "go go go," as he appears to hand money to the upset fan. "Escort this person out of this place please," he says to security behind him.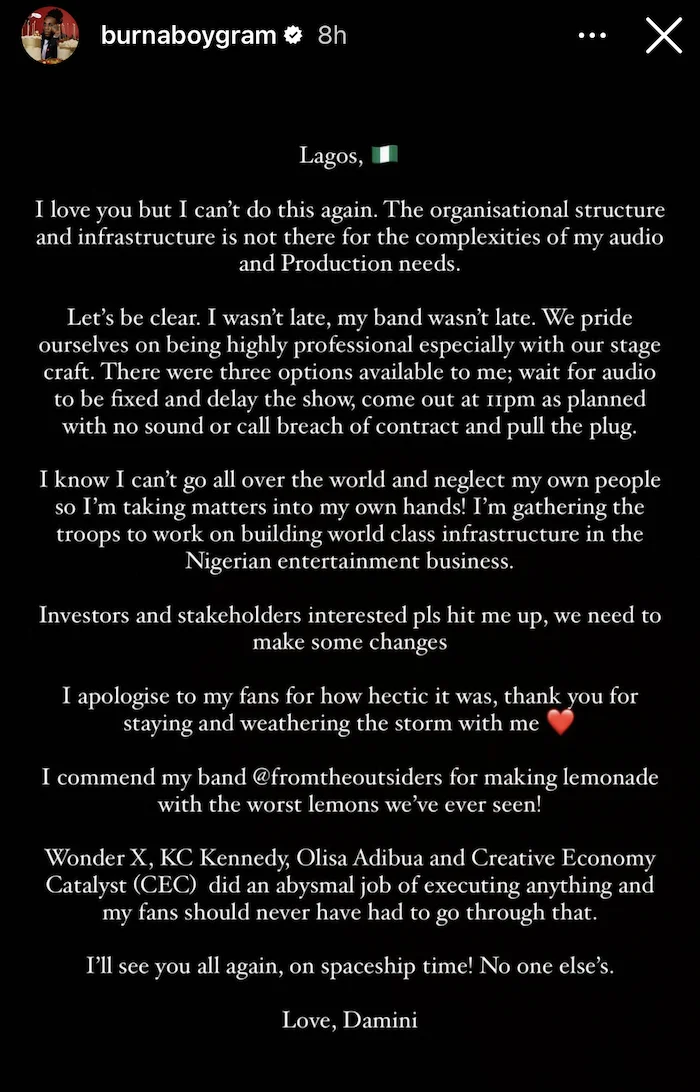 In a lengthy message posted on his Instagram Story, Burna Boy blames infrastructure for his performance and pledge to invest in bringing world class infrastructure to his home fans. "I apologise to my fans for how hectic it was, thank you for staying and weathering the storm with me," he wrote. "I commend my band @fromtheoutsiders for making lemonade with the worst lemons we've ever seen!"