Michael Rainer Jr., aka Tariq St. Patrick, found himself in the middle of a dancehall feud.
Jamaican-born TV star Michael Rainey Jr. has reportedly received death threats from fans of Alkaline following his decision to compare Vybz Kartel to Alkaline. The young actor used his Instagram Story to put forth the contentious comparison. Vendetta fans were left feeling disgusted when Rainey shared a picture of Alkaline from his days at Ardenne High School.
"Kartel Was Running Road When This Pic Was Taken N This N***a Think Him And Kartel A Size," came the supporting caption. He added a few laughing emojis to the already biting line.
Rainey Jr. is best known for his role as Tariq St Patrick on the 50 Cent produced hit franchise, Power. He has been quite vocal over the years about his support of the Vybz Kartel-led Gaza nation. He cites Vybz Kartel, Tommy Lee Sparta, and Popcaan as some of his favorite dancehall artists.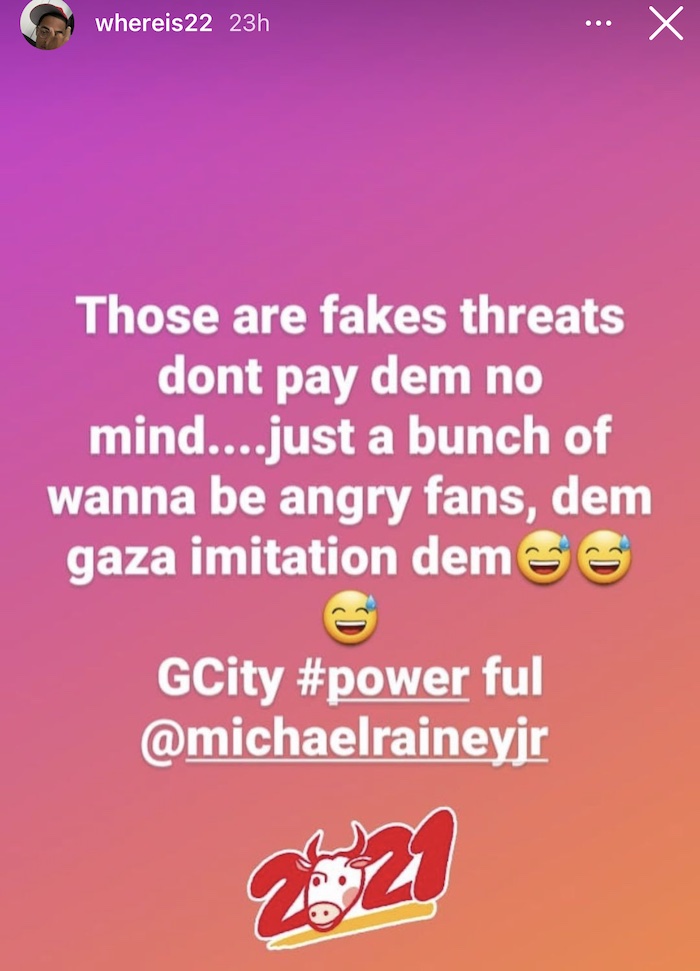 His recent comparison did not rest well with Alkaline's fans, and quite a few of them took to social media to thrash the actor. The comment areas below his recent posts and direct message inbox were supposedly overrun with hate mail. He again took to social media to share a few of what he was receiving. He doubled down on his stance as he shared the threatening messages and comments via screenshots he had taken.
"Nah All Jokes Aside Tho Y'all Really Can't Deny That Kartel Was Running Road When Alkaline Was In School. Kartel Been Making Music Forever. Literally Forever," he wrote.
Things got even more interesting when Vybz Kartel got wind of the firestorm that was brewing online. He threw his support behind the actor and posted: "Those are fake threats don't pay dem no mind….just a bunch of wanna be angry fans, dem gaza imitation dem GCity #power ful @michaelraineyjr." Rainey reposted the comments on his official Instagram page.
Vybz Kartel and Rainey seem to have a fairly good online relationship as this is not the first time the incarcerated DJ has reached out to him. He wished him a happy birthday via his Instagram page last year. Rainey is also no stranger to Jamaica, and last year Tourism Minister Edmund Bartlett even supported him being a perfect candidate as the country's official youth ambassador.
Do you think international superstars and persons of influence should publicly show their support for their favorite entertainers?