Meek Mill appears to have taken a brutal fall off hiss ATV and he is blaming the 2020 curse.
If there was ever a time to become superstitious, 2020 is it. This year has been plagued with all kinds of bad luck, so we all might want to pay more attention to our words and the energy we are sending to others, even when we are making a joke. It seems J. Cole might have sent a jinx Meek Mill's way when he recently made fun of his friend and collaborator Bas, calling him out for a major fail while riding his ATV and saying that ATV-enthusiast Meek Mill would be "disgusted."
Now Meek Mill is facing a fail of his own, taking to Instagram to post a painful picture of himself hitting the pavement as his ATV bounces through the air nearby.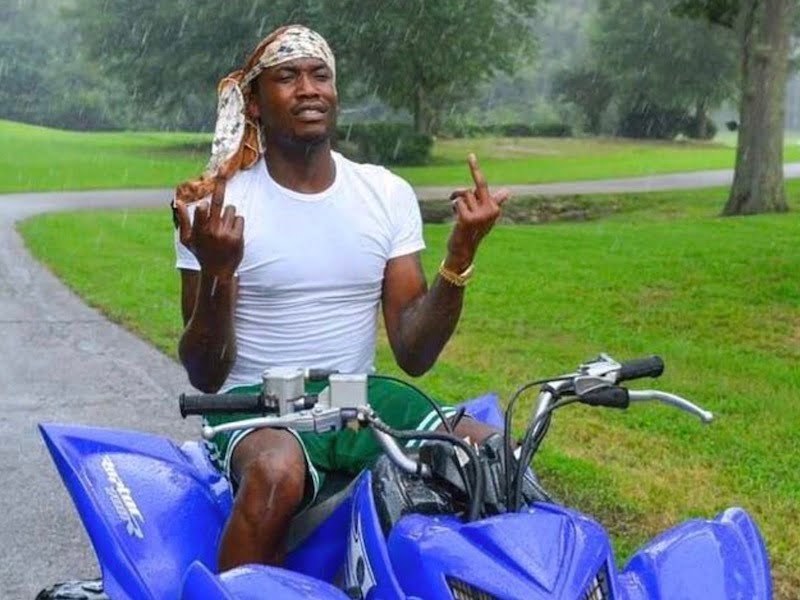 "2020 acting Brazy…ima be aight", Meek captioned the post, along with a zombie emoji. Meek has long been known for his passion for bikes and four-wheelers, even finding himself serving a highly disputed jail sentence after being pulled over for popping a wheelie on his bike while on probation. That incident led to a long, drawn-out battle to free Meek, and eventually pushed the rapper to pursue criminal justice reform on a larger scale alongside some of his famous friends such as Jay-Z and Kim Kardashian.
While Meek Mill's injuries from the recent fall are probably painful, the rapper has had a more successful year than most. His two most recent singles, both political in nature, each landed a spot on the Billboard 100, and he welcomed a baby boy born in May on his birthday. The "Down Bad" rapper has a lot to celebrate, despite having to take a little time to nurse his wounds. Let's hope 2020 treats him well from here on out, and that we all have a little good karma headed our way.