Tekashi 6ix9ine's new shark chain was trending on Twitter all because it reminds fans about Finding Nemo.
3 PM on Friday arrived, and with it came a brand new single from Tekashi 6ix9ine. The rapper had hinted that something big was on its way after renting out a billboard in Times Square and plastering his face on it, along with the words, "The King Is Back." A date and time matched up with the hour that 6ix9ine was set to go live on Instagram, and he did not disappoint.
"GOOBA" had very much of a Disney theme around it as fans spotted Bruce, the shark from "Finding Nemo" on several occasions — including on a chain around 6ix9ine's neck. Lovers of the film saw similarities between the character, who holistically preaches "fish are friends, not food," until he smells blood, with Tekashi, who turned state witness against his Nine Trey Gangsta Bloods members.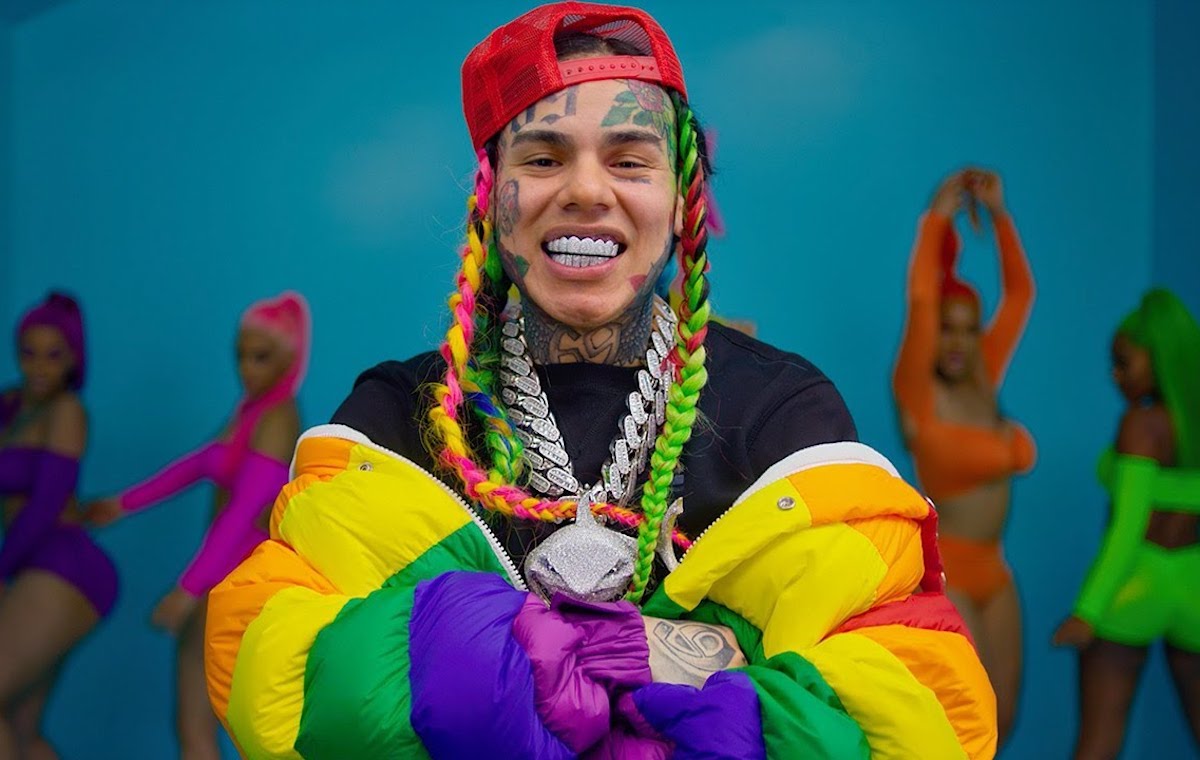 The single was accompanied by a multi-colored music video, which Tekashi 6ix9ine shot in his backyard as he is under home confinement. A bevy of models, including his girlfriend Jade, can be seen twerking while covered in paint, and at one point, the convicted rapper transforms into a rat in reference to his alleged snitching. Takashi 6ix9ine also references the situation in the lyric, "Tell me how I ratted, came home to a big bag."
Aside from viewing the new music video, 2 million IG users tuned in to the stream for something else — to hear the New York rapper explain why he decided to snitch. "Where was the loyalty when you was sleeping with my baby mother?" 6ix9ine asked. "Where was the loyalty when you were caught on the wiretap trying to kill me?"
Tekashi 6ix9ine seems to be starting a new era — one where he is embracing the "rat" label for his own benefit. His fans seem fascinated by his massive Shark chain because it pays homage to an iconic character in the classic animated film, Finding Nemo.
People talking about how 6ix9ine just broke the Instagram live viewers record but I'm more caught up with his massive diamond pendant of Bruce from Finding Nemo. pic.twitter.com/jB2KJtCfcv

— Jessica Corbett (@jcorb_) May 8, 2020
6ix9ine shark chain from finding Nemo is hard though.

— Respect Is Love (@GoldMoufDawg311) May 8, 2020
6ix9ine really flooded out bruce from finding nemo ? pic.twitter.com/gUdKPpVx6h

— ILLY (@illyporfa) May 8, 2020
We just gonna look over that 6ix9ine has a finding nemo Bruce chain?? pic.twitter.com/N85C25KQKQ

— Ethan Teale (@bigpeals) May 8, 2020
6ix9ine has a chain of Bruce from Finding Nemo. Which has gotta be one of the coolest chains I've ever seen.

— Calf (@cookson_patrick) May 8, 2020
Why #6ix9ine got outta jail and the first piece he buys is a diamond chain of Brucey the shark from Finding Nemo ???

— Kenya Barris's Underpaid Assistant (@keithsweat1911) May 8, 2020