Tekashi 6ix9ine's baby mother is livid about his recent revelations that she was sleeping with his manager and gang member.
The mother of incarcerated rapper Tekashi 6ix9ine's daughter, Sara Molina is denying his claims that she was involved with his manager and his friend, Shotti. In a letter, the "FEFE" rapper recently penned to a judge requesting leniency, 69 said that he found out that his baby mama was getting busy with the Tr3way gang member and his friend. "Prior to my arrest, I was kidnapped by members of the gang, became aware of the fact the mother of my child was having sexual relations with one of my co-defendants and that they were stealing hundreds of thousands of dollars from me," 6ix9ine wrote in the letter.
Molina took to Instagram live to dispel the rumors that she was involved with Shotti and went off on Tekashi 6ix9ine for saying it. The Instagram model alleged that her ex-boyfriend would abuse her, and while they were in Dubai, she fled to Shotti's room during a particular incident where he was beating her. 6ix9ine has since admitted to domestic violence, and Sarah Molina's claims were substantiated.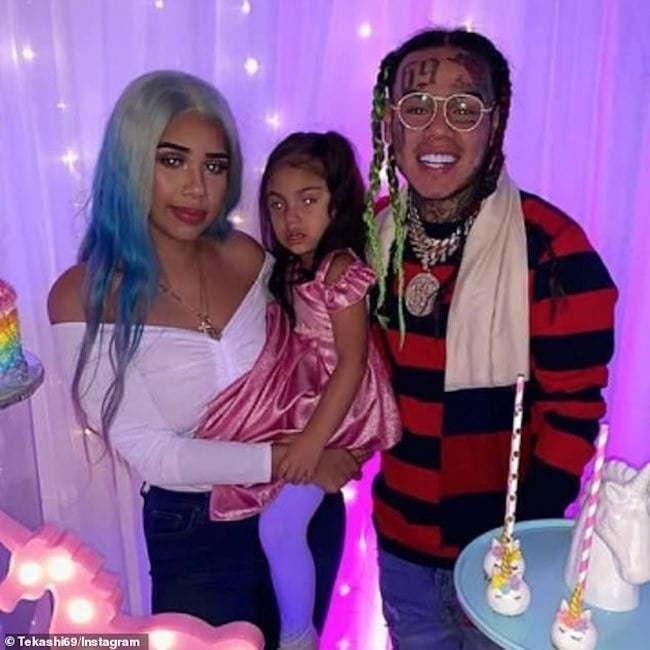 Speaking on the Dubai incident which sounds to be one of the worst experiences of her abusive relationship with Tekashi, Sara Molina read out loud a message she sent back to Shotti following his DM celebrating that they made Tekashi "own up to the incident" after news broke that he confessed to the 7 years of domestic violence against his baby mother and on and off girlfriend. In response to the message that validated the story that Sara came "banging" on Shotti's hotel room door in Dubai, Molina said, "I thought I was going die. He beat me every day and forced me to have sex with him and didn't let me leave the room. I never apologized for banging on your door. I say it has the only chance I was scared for my life," she said.
"The way this n***a put his hands on me in Dubai. He beat me for hours," Molina added.
Now that the truth has come out of the dark, it's only a matter of time before we find out if Tekashi's letter will hold up in court.