Tekashi 6ix9ine penned a lengthy letter to the judge ahead of his sentencing hearing.
The for Nine Trey Bloods gang member will be sentenced on December 18, which is a week from today. Most of us in the media world who has been closely following the case, are expecting him to walk free with time served due to his overwhelming cooperation with federal prosecutors. Not only did Tekashi 6ix9ine gave the feds a mountain of information to build their case against his fellow gang members, but he also testified in court against former gang members, Anthony "Harv" Ellison and Aljermiah "Nuke" Mack. His testimony created great dangers for him if he should go to prison, and even more so, he will have to watch over his shoulder if he is set free next week.
In his letter to the judge, Tekashi69 explains how the gang, headed by Mel Murda, extort and steal money from him. He also details how one gang member had a sexual relationship with his baby mama, Sara Molina. There have been previous rumors claiming that 6ix9ine's former manager, Kifano' Shotti' Jordan, had an affair with Sara. Of course, both Shotti and Sara denied the rumors.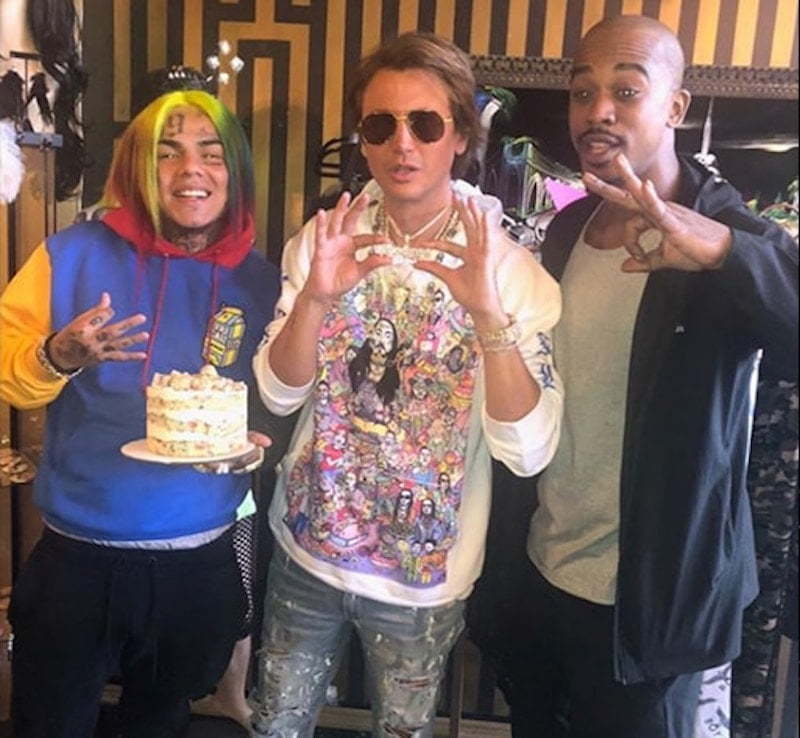 "Prior to my arrest, I was kidnapped by members of the gang, became aware of the fact the mother of my child was having sexual relations with one of my co-defendants and that they were stealing hundreds of thousands of dollars from me," the rainbow-haired rapper wrote to the judge.
Tekashi went on to explain how relief he was when he was arrested by the feds in November last year. He said that his arrest gave him the opportunity to escape the grips of the gang which is why he decided to cooperate (snitch) with the government. "I had a feeling of relief when I was arrested by the Government because I felt stuck, like the gang had control of my life and I would never be able to escape their grip," 6ix9ine said. "I needed to do something before it was too late."
Tekashi 6ix9ine, whose real name is Daniel Hernandez, pleaded guilty to several counts of racketeering, drugs, and gun charges back in January of this year. He then proceeded to cut a plea deal with the government to give information and testified against his former Nine Trey Gang associates. In his letter, the "FEFE" rapper was very remorseful as he explains how deeply regretful he is for his crimes. "I am remorseful for what happened because I was blessed with the gift of an opportunity that most people dream of but I squandered it by getting involved with the wrong people and misrepresenting myself when I should have been true to myself and my fans," he wrote.
6ix9ine also vowed to dedicate a portion of the rest of his life to help people not make the same mistakes he made that landed him in this situation. The Brooklyn rapper is facing 47 years in prison, but the judge is expected to go light on him for his cooperation. Prosecutors in his case, have also written a letter to the judge asking for leniency in sentencing.
Tekashi 6ix9ine may very well walk free next week Wednesday with a sentence of time served.
Read Tekashi69's full letter below.