NBA Youngboy's younger brother is in police custody in connection to a shooting death.
Rapper NBA Youngboy's 16-year-old brother, Jeffrey Tate, was arrested Wednesday in connection with the shooting death of another teenager in Baton Rouge. According to WVLA, Tate is in custody and was booked into a juvenile detention center after police said he was involved in the murder of Jevon Brown, 17, who was shot on Monday after a fight. Jeffrey and NBA Youngboy, born Kentrell Gaulden, have the same father.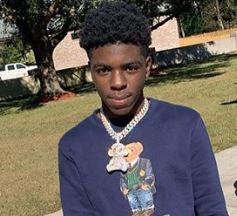 Jeffrey's brother, Davaughn, 18, who is not related to Youngboy, was also arrested for his alleged involvement in the shooting. Heavy.com reports that Jeffrey was accidentally shot in the arm during the brawl that led to Jevon Brown's death. He was arrested when he sought treatment at the hospital. Jeffrey is facing charges of principal to second-degree murder, principal to illegal use of a weapon and simple battery. His brother Devaughn is facing charges of second-degree murder and illegal use of a weapon.
Reports said that Brown and another teenager were approached by three teenagers around 2:45 p.m. Monday afternoon. The group then began fighting which led to the shooting. Brown was pronounced dead the following day.