Dave East blames death threats as the reason for his canceled show in Boston.
After a show in Boston on Friday night, Dave East was scheduled to host an after-party at Icon Nightclub. Unfortunately, the rapper was told by club owners that he would not be let in due to anonymous death threats called into the club. Dave took to Instagram to explain the situation, saying, "I know one thing, if a n***a gone do that he ain't calling the club telling them. Sorry to whoever came out to see me and to the owner of Icon u a bozo." There were allegedly two calls made to the club, each indicating an intent to shoot East, should he arrive.
Dave East—rapper, actor, and Harlem native—is currently on the road promoting his debut album, Survival. The LP features twenty songs and several heavy hitters in the hip-hop and R&B game including Nas, Rick Ross, Fabolous, Lil Baby, Ty Dolla $ign, and Teyana Taylor. Since its release last month, the album has received praise from critics who describe it as "well-produced" and "introspective".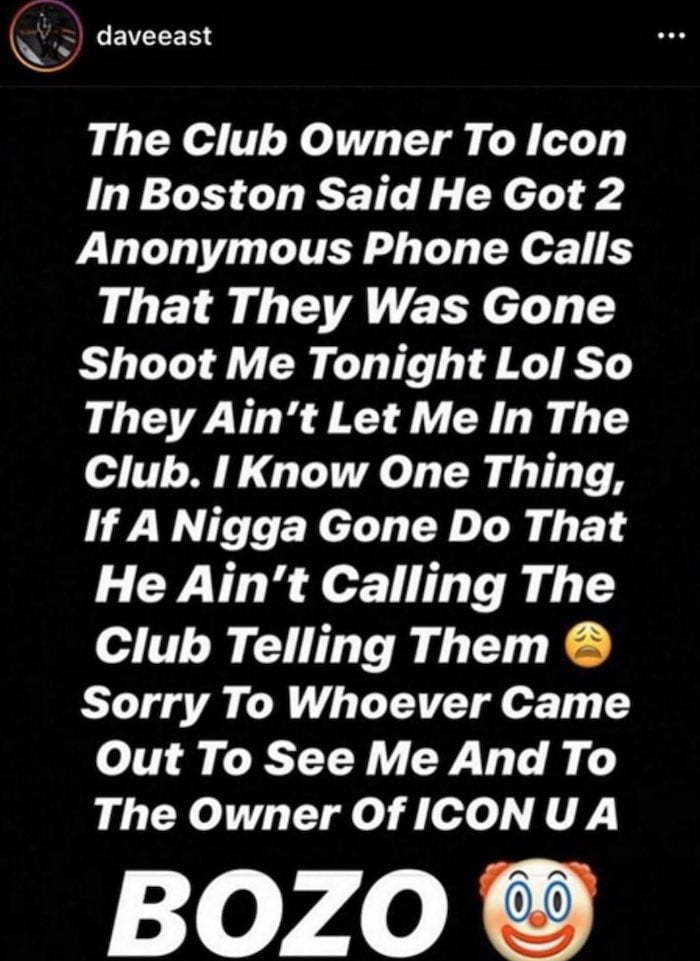 Although this is East's first official album, he has been very present in the hip-hop world since the release of his mixtape, Black Rose, in 2014. After gaining the attention of hip-hop legend Nas, East signed to Mass Appeal Records and released two mixtapes before going on to sign a deal with Def Jam.
In addition to an impressive rap career that is still gaining momentum, East has also shown his acting chops for a role in BET's Being Mary Jane, and most recently, while playing Method Man in Wu-Tang: An American Saga. No stranger to gun violence, East had a close relationship with slain rapper Nipsey Hussle. East admitted to removing a Kodak Black verse on his latest project due to comments Black made about Nipsey. Explaining the decision, East said, "…don't speak on that man after he's gone if it's not in a positive light."