Iggy Azalea pounced on T.I. for admitting that he accompanied his teenage daughter to the Gynecologist to make sure she is still a virgin.
TIP is a very strict father when it comes to his daughters, and the internet isn't pleased. Atlanta rap mogul T.I. has branded himself as a family man with the help of his reality show T.I. & Tiny: The Family Hustle where viewers and fans get to watch his kids grow up in front of their very eyes. Each of the seven children in the blended family has built their own followings and have already jump started their careers as artists and influencers. T.I. was known on the show for being a non-nonsense father with high expectations for his household, and on Monday, fans found out just how far his strict rules go.
The "Rhythm + Flow" host sat down with the Ladies Like Us podcast hosted by Nazanin Mandi, wife of singer Miguel, and makeup artist Nadia Moham to talk about his own podcast, business ventures, parenting and more. The hosts asked T.I. if he has had a conversation about sex with his daughters, in particular his oldest, Deyjah Harris, who just turned 18 years old this summer. "Not only have we had the conversation … we have yearly trips to the gynecologist to check her hymen," the rapper candidly admitted. The hosts laughed it off, but Tip didn't sound like he was joking. "I go with her."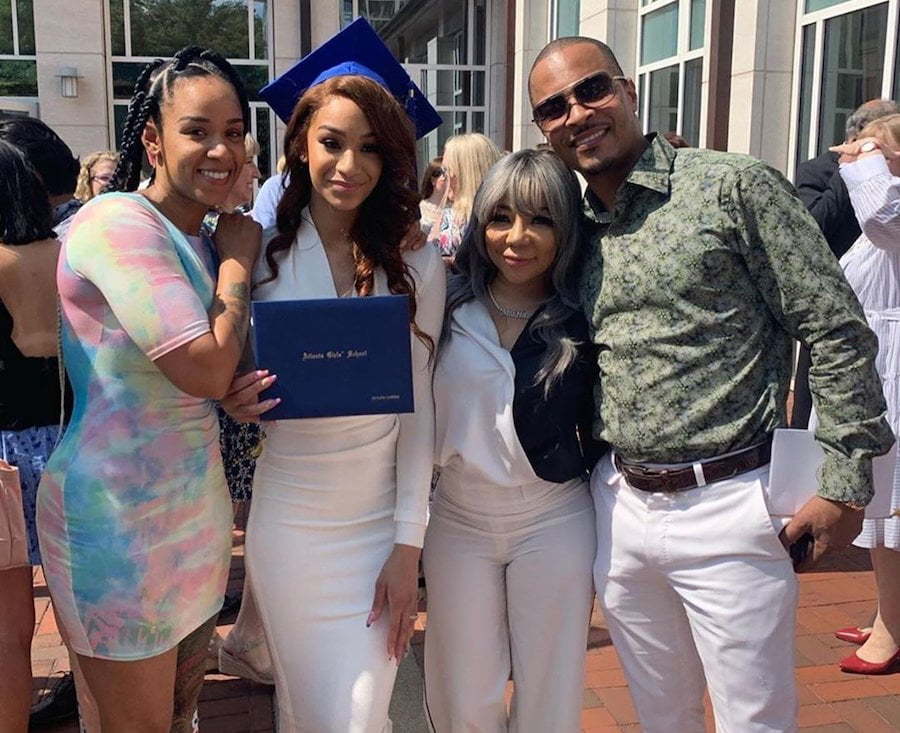 "There was this one time, I think it was after her 16th birthday. And this is what we do. Right after the birthday, we celebrate. Usually like the day after the party, she's enjoying her gifts. I put a sticky note on the door – 'Gyno. Tomorrow 9:30.'" He continued to describe how he encourages Deyjah to sign a release form at the appointments so that the doctor can share information with him. "Is there anything that you would not want me to know?," he asks. The doctor has explained to him that there are other ways that the hymen can be broken besides sex, such as athleteic activties like horseback riding or riding a bike. "I said look Doc. She don't ride no horses, she don't ride no bikes, she don't play no sports man. Just check the hymen please and give me back my results, expeditiously."
He said as of her 18th birthday, Deyjah's hymen is still intact. That conversation did not blow over to well with fans who immediately criticized T.I. for empeding on his daugther's sex life in that way. "This is absolutely disgusting and perverted and vile and ignorant and just plain wrong," wrote one fan on Twitter. One woman in particular who felt the need to speak out against Tip's words was none other than his former artist Iggy Azalea whom he's had public tension with over the last few weeks.
"I really wish women who interviewed him would have said something to him," Iggy said in tweets that have since been deleted. "He has serious control issues with women in all aspects of his life & needs therapy."
Deyjah herself seems to have an issue with her father's actions, as one twitter user pointed out that she has been liking tweets that criticize or shame T.I.
Skskfssjkgdjgdjj pic.twitter.com/k3IaJ5lhAF

— Ari LaBeija (@TheBaddestMitch) November 6, 2019
You can catch the clip, plus fan reaction to the incident below.
This is absolutely disgusting and perverted and vile and ignorant and just plain wrong. TI is a sick, controlling narcissist and there is absolutely NO way Deyjah, her mother or any woman in TI's life should be okay with this. https://t.co/tDjVdAoSom

— Candice Marie Benbow (@CandiceBenbow) November 6, 2019
T.I. has never and I mean NEVER been able to keep his dick to himself and he got on robyn fenty's internet and boldly informed us that he's keeping tabs on his daughters vagina? not her vaginal health but her fucking hymen?

— vaun (@_Vaun) November 6, 2019
No exaggeration, T.I. invading the space and humanity of his daughter like this is one of the most disgusting things I've ever heard. https://t.co/OIWkQgglCn

— Frederick Joseph (@FredTJoseph) November 6, 2019
as a mother, ain't no fucking way I'd let my husband, father of my child, whatever take my daughter to the doctor every year for a fucking hymen check? I'd knock all this shit over.

— KH (@thecoolestmama) November 6, 2019
T.I. son is sexually active already, and you guessed it, TI dont give 2 shits. Mind you he is younger than his daughter

— Tony (@wxckedtony) November 6, 2019