50 Cent has a lot to celebrate, so he went on a night out with his gorgeous girlfriend, Cuban Link.
Ever since introducing his new girlfriend at the Power Final Season celebration event at Madison Square Garden in August, retired rapper and multi-media businessman 50 Cent has been noticeably more playful and romantic on social media. Most recently, Fifty posted a video of his boo, Jamira Haines, aka Cuban Link, with the caption, "@_cuban_link and alysa acted like they didn't know how to bowl, then after we bet bi***es start bowling strikes left and right." Fifty might be in love, but apparently, he is still not beyond calling his girlfriend names when he feels played by her surprise skills.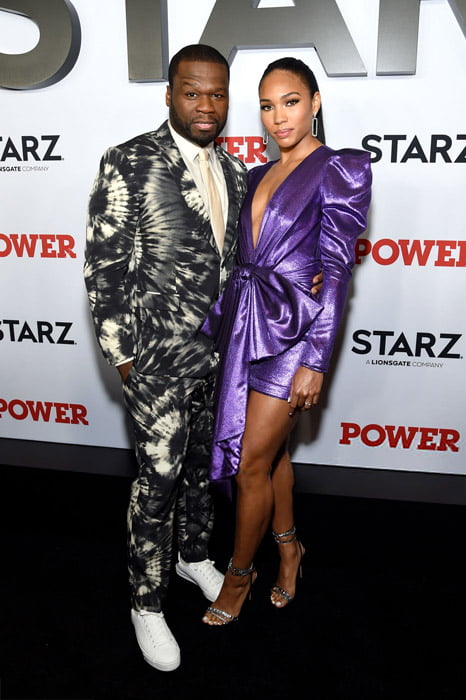 Before the date, Cuban Link posted a poll on her Instagram story asking followers to guess who would win during their bowling match, but she allegedly told Fif she couldn't bowl. It seems things changed once the couple put money on the game, and the typically ruthless rapper was left feeling finessed. The couple has gone back and forth poking fun at each other on social media over the last couple of months, as well as highlighting their mutual affection with virtual kisses and peeks into their romantic date nights.
50 Cent has had his fair share of highly publicized relationships with a wide array of women, including Meagan Good, Vivica A. Fox, and Chelsea Handler. More recently, the entertainment mogul has focused most of his energy on business endeavors and social media, occasionally striking up a new beef to show that he is still the pettiest of them all. Since going public with his relationship with Haines, however, some fans have noticed 50 Cent has appeared more relaxed and less ready for war. Haines is a fitness model and aspiring lawyer who founded Cuban Fit, a website dedicated to health and personal training. Cuban Link is 24 years old, a full twenty years younger than 50 Cent.