Joe Budden isn't capping with the statement he just made about Omarion and his B2K bandmate Lil Fizz's involvement with Apryl Jones.
On Sunday, Joe Budden sent out a tweet that immediately caught the eyes of the hip hop community and went viral. The State of the Culture host had since deleted the tweet, but not before we got a screenshot of it. "Omarion don't get enough credit for just chillin cuz man listen…," Budden wrote. Almost everyone who commented on his tweet agreed with his statement, so it's safe to say that he is just echoing how we all feel about this topic. The former Slaughterhouse rapper's statement came amid Lil Fizz and Apryl Jones, parading their relationship on Love and Hip Hop Hollywood and social media.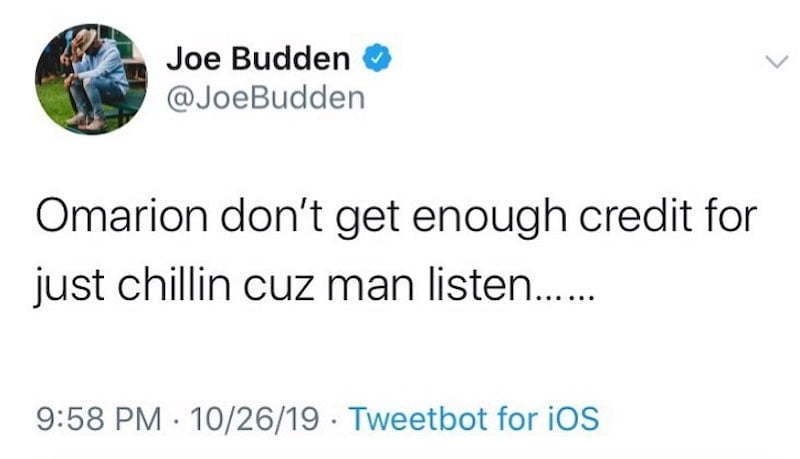 Lil Fizz, whose real name is Dreux Frederic, maybe the youngest member of R&B group, B2K, but he's not afraid to make waves. The rapper and singer posted a video of himself on Instagram, enjoying a handful of Apryl Jones' booty cheek, apparently not afraid to publicly display his affection for Omarion's former fiancé and baby mama. The two were rumored to be sneaking around behind the back of B2K's lead singer for some time, and some sources report the two came together over a mutual disdain for Omarion. Rumors of the love triangle has been a source of drama featured on the show Love and Hip Hop, and many fans find the pairing shady to say the least.
Despite the negative reaction from some viewers, the couple made their relationship official on the show, with Apryl shutting down haters by saying, "I don't live for the internet. I do what the f*ck I want. I'm a grown a** woman." The timing of the relationship had a lot of people raising their eyebrows since the romance seems to have unfolded behind closed doors during the B2K Millennium reunion tour. Omarion seems unbothered by the situation entirely, however, posting a close-up shot of his satisfied grin with the caption "ALL SMILES" on Instagram shortly after the announcement. When questioned about his feelings on the matter, O told BET, "She's a grown woman."
B2K was a hugely successful R&B group in the late 90s and early 2000s, but Omarion went on to have much more solo success than the other members, including Lil Fizz. In recent years, however, Fizz has been making his money with reality shows Love & Hip Hop: Hollywood, and Marriage Boot Camp, who he was featured on with Tiffany Campbell. It appears bootcamp did nothing for that relationship.