Dancehall artiste Chronic Law was reportedly involved in a car accident.
Chronic Law is counting his lucky stars right now after he made a narrow escape when his motor car he was driving overturned along a roadway in Yallahs St. Thomas earlier today. The 6IX artiste posted a photo following the incident, perhaps in an attempt to assuage the worry coming from his fans and friends, captioned: "God bless youth #1Law". He also responded in the affirmative to a few of his fans who queried whether or not he was OK.
Details are sketchy, but well wishes have been coming in from members of the entertainment fraternity.
"Prayers up for Chronic Law, weh no cost life no cost nuttn," veteran selector Foota Hype posted a few hours after fans told him about the crash during his live feed this morning. Foota also posted a screenshot of the overturned motor vehicle.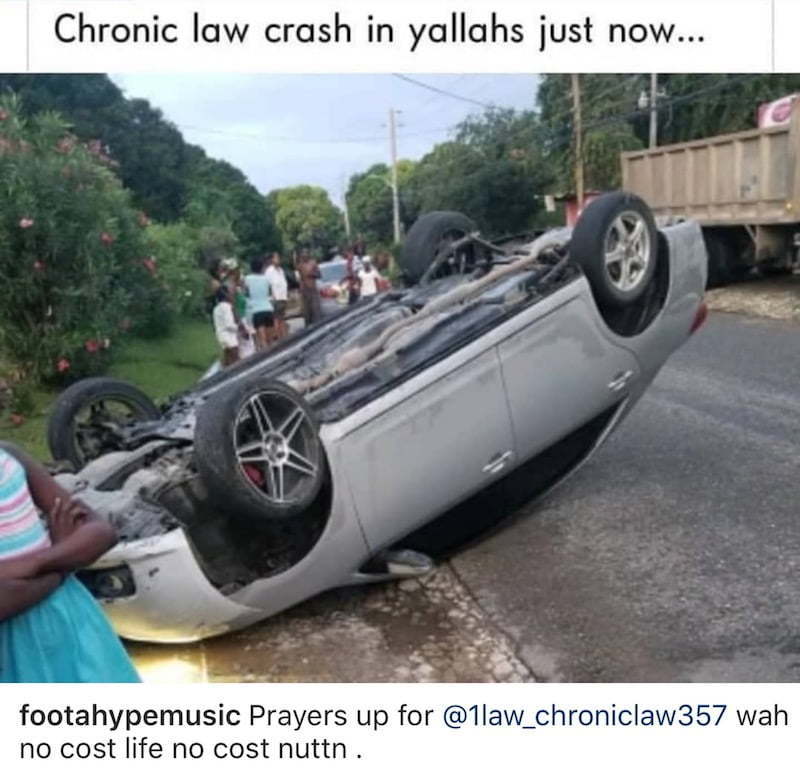 This is the second Dancehall artiste to have met in a traffic accident in one week. Last week Saturday, former Grammy nominee Sizzla Kalonji was hospitalized after he sustained a broken ankle, following a motorcycle accident.
Sizzla was reportedly doing stunts on one of his motorbikes along Mona Road in Kingston when he fell and broke his right ankle.
The situation also forced the Good Ways artiste to postpone some of his upcoming shows slated for the United States and the Caribbean, as Sizzla was booked for shows in Barbados, Boston, and Orlando as well as the Thanksgiving Reggae Festival on November 30 in Florida.