Summer Walker and London On Da Track have broken up.
Breakout R&B star Summer Walker is still basking in the success of her record-breaking debut album Over It, and has been vocal about the help she's been getting from her executive producer London On Da Track. The two not only work well together but ended up in a relationship a few months ago that seemed to have been going well. But Summer announced Monday that their relationship has come to an end and she broke it off with the Atlanta bred producer.
"Single. Lol somehow I always end up with male chauvinist," the "Girls Need Love" singer wrote on her Instagram story. "Im a alpha female so I guess when I think for myself/make my own decisions it's taken as disrespect." Fans were sad to see the two split as their undeniable chemistry brought about a great album that broke the streaming record for any female R&B star, but Summer said is walking away with no hard feelings.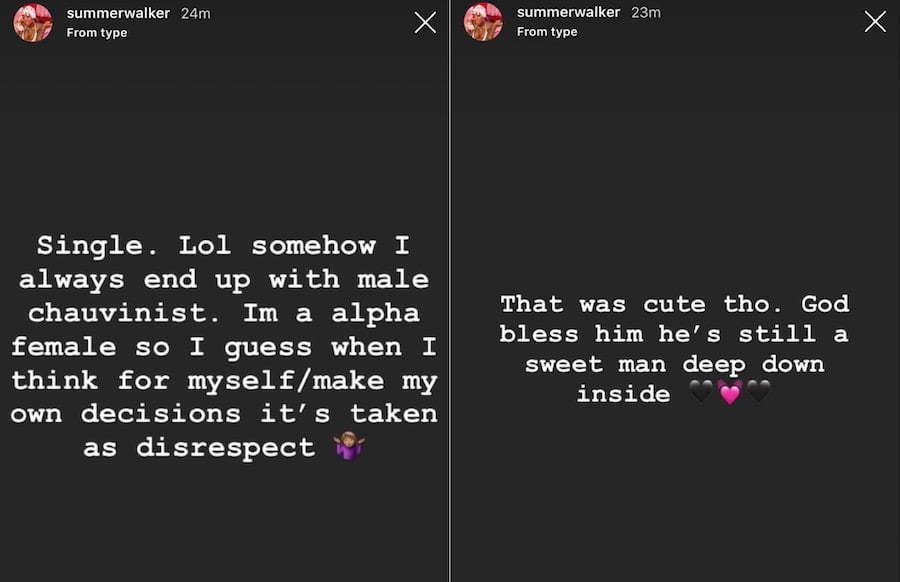 "That was cute tho," she continued. "God bless him he's still sweet man deep down inside." London, 28, has yet to address the breakup but did coincidentally post a snake emoji to his Instagram story around the same time. It was only three days ago that he posted a cute selfie of the two of them saying he was "gone change her name." From the context of Summer's explanation, it seems like the two got into a heated argument that led to the split. But for the sake of the fans, the two work so well together and make such fire music that we all hope they can manage to work things out.
Of course, fans reacted to the news with shock and jokes on social media. You can catch some of the trending chatter below.
Summer Walker really finessed a whole album out of London on da Track and then dipped?

— wholesome hads. (@hadleyogarro) October 21, 2019
Summer Walker used London to get a no.1 album then broke up with him … women ain't shit lmaoooooo

— ForeverLex (@BrownAlexandre2) October 22, 2019
London on da track broke Summer Walker's heart???!! pic.twitter.com/et5EorGNz5

— Modro (@MALIKMALCOLMLEE) October 21, 2019
Summer Walker really broke up with London On Da Track after her album went #1? She definitely quitting music after the tour. Finesse Twitter is going UP tonight. pic.twitter.com/Xre96vbT5o

— SONGO (@MasongoOgora) October 22, 2019