Nicki Minaj said her piece on Joshua Brown's murder and later deleted it when more details about his killing surfaced.
The Amber Guyger murder trial has been a topic of discussion for everyone lately. The highly publicized case took another fatal turn when it was reported that a key witness, Joshua Brown, who testified against the defendant that was later convicted, was shot and killed a few days later. This trial has been plagued with controversy from the onset of the court case. The presiding judge allowed the jury to consider the "sudden passion" defense, which meant the defendant acted in the heat of the moment.
As a result, Guyger was only sentenced to 10 years behind bars for the murder of Botham Jean, a St. Lucian man that moved to Dallas for work. After the verdict was read, the judge approached the shooter and presented her with a bible and a hug. The victim's brother also hugged the shooter and wished her well. People were livid about the excessive leniency and sympathy that was shown towards the murderer. Now that the key witness in the trial was murdered following his vital testimony, the case has come under even more scrutiny.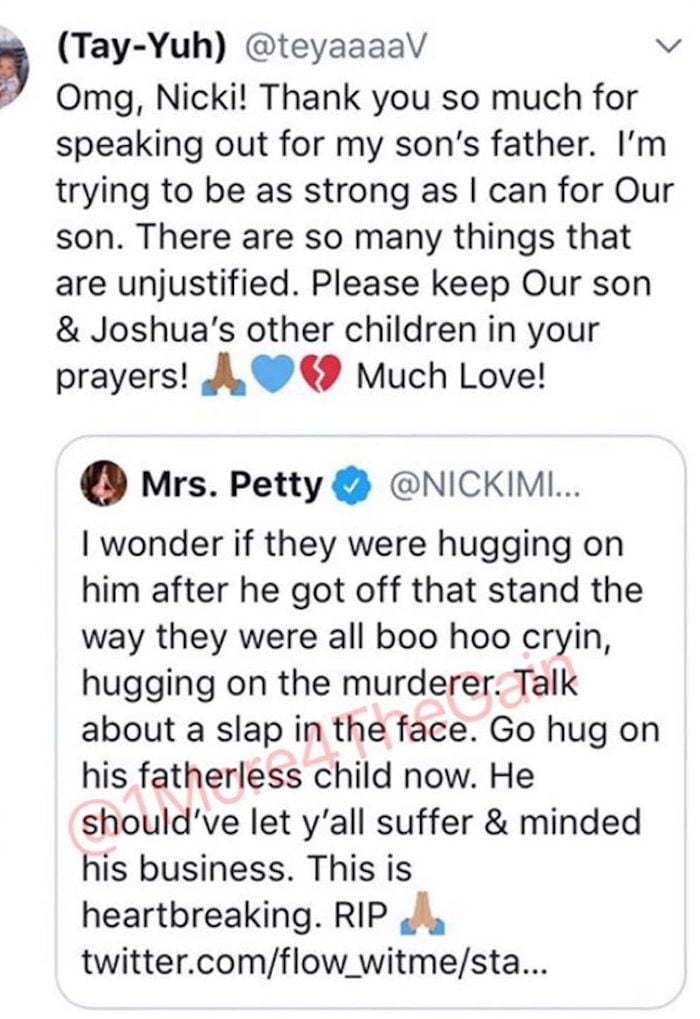 Nicki Minaj took to Twitter to share her thoughts on the heinous crime and unfair judgment. In response to a Twitter user speaking passionately on the tainted case, Nicki tweeted, "I wonder if they were hugging on him after he got off that stand the way they were all boo hoo cryin, hugging on the murderer," Nicki wrote on Twitter. "Talk about a slap in the face. Go hug on his fatherless child now. He should've let y'all suffer & minded his business. This is heartbreaking. RIP."
Amber Guyger, a white female and former Dallas police officer, testified that she inadvertently set foot in the wrong apartment unit on the night of the shooting after a long shift at work. Upon seeing the victim, Botham Jean, the off-duty police officer, assumed it was a burglary and opened fire. Joshua Brown testified in court that he did not hear Guyger ask an unarmed Botham Jean to put his hands up, which was a pivotal point in the case that led to her conviction. We later learned that Guyger has a history of sharing racist texts and social media posts.
Some new details has since emerged that police officers made a breakthrough in solving Joshua Brown's murder, which could be the reason why Nicki Minaj deleted her tweet. According to CBS News, Dallas Police Assistant Chief Avery Moore revealed on Tuesday that law enforcement officials have identified three suspects, two of whom are currently in custody facing capital murder charges.
Cops say 20-year-old Jacquerious Mitchell was shot in his chest during the murder incident and was left at a local hospital by his cronies who then went on the run. Mitchell survived the gunshot wound and has since been arrested and charged with Joshua Brown's murder. 32-year-old Michael Diaz Mitchell is also currently in police custody after he was picked up by U.S. Marshall's Violent Offender Task Force. The third suspect, 22-year-old Thaddeous Charles Green is currently on the run.
Joshua Brown was shot in his mouth & chest. He was exiting his car at his apt when he was ambushed & shot at close range. His mother asked my office to help find out who murdered her son. She suspects foul play. He had no known enemies. He worked for a living. We need answers. pic.twitter.com/k0KizSLMHi

— S. Lee Merritt, Esq. (@MeritLaw) October 5, 2019
Through the dedicated work of the DPD homicide detectives, we have identified 3 suspects in the murder of Joshua Brown. Jacquerious Mitchell B/M age 20, Michael Mitchell B/M age 32 and Thaddeous Green B/M age 22 pic.twitter.com/v0vikYEpD4

— Dallas Police Dept (@DallasPD) October 8, 2019