DJ Akademiks resurrects his rap alter-ego and drop a Nicki Minaj diss track called "Take Care Babe."
DJ Akademiks has been feuding with rapper Nicki Minaj via social media for some time now, and today he officialized the beef by penning a diss track about her. The "Megatron" rapper and media personality DJ Akademiks have been going toe to toe for some time now as they are embroiled in a heated dispute. He recorded a four-hour-long video live on his Twitch account, where he detailed the evolution of the animosity between himself and the "Megatron" rapper. Throughout the entirety of the beef, he has been releasing messages allegedly sent to him by Nicki, where she threatens him with physical violence.
One of his most recent jabs at Nicki Minaj came via a video posted on his Instagram page where he mocked the rapper about her previous run-in with Cardi B that got physical. Showcasing a pair of sneakers, DJ Akademiks stated that he visited the Complex offices and informed them that the rapper, her goons, and her fans are after him. However, instead of hiring him a security detail, they armed him with only a pair of shoes. The video was captioned, "Damn… Complex told me I'm on my own dealing with Nicki Minaj n her killer goons.. they gave me these n said "Stay Safe in these Skreets."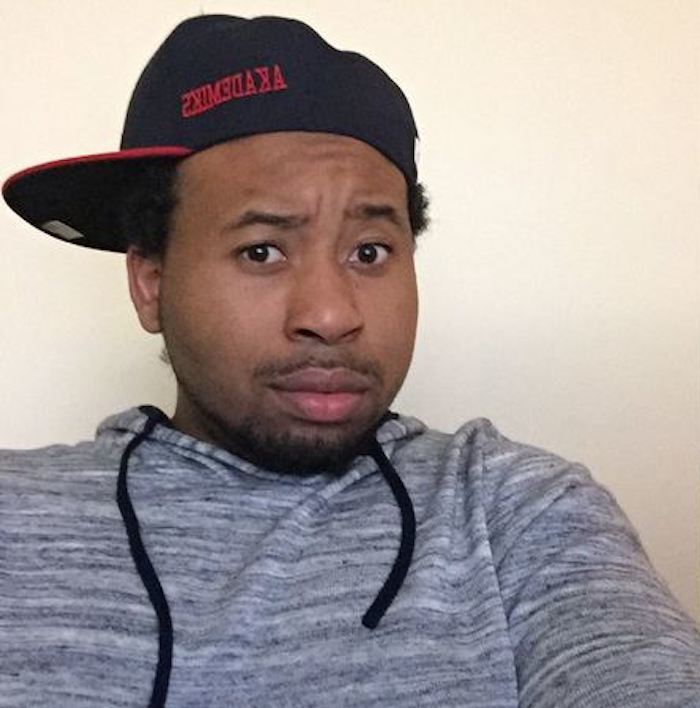 Akademiks took to his Instagram page yesterday to announce that his musical alter-ego Lil AK would be returning soon, "The return of LIL AK. 10.18.2019. HYPEBEAST OTW. We taking all lyrical fades too… might have to drop a diss song too to set the tone out here… lmk who need a lyrical annihilation from LIL AK. The pen is itching." Well, it seems he had this one locked and loaded as he dropped off his diss track for Nicki earlier today.
The track titled, "Take Care Babe" was uploaded to his YouTube channel, and although it has accumulated over 35 thousand views in three hours, fans are calling it a colossal flop. The description of the track reads, "Enough talking and DM'ing from these lame a*s rappers.. if they ain't gonna start rapping or claim they quit rapping… Lil AK finna handle it w/ the BARS." He also cites that the cover art was made in Microsoft paint by Lil AK.
The beat of the track is somewhat childish, sounding like an ice cream truck jingle. He then kicks off rapping, "Don't be playing, don't be playing like you know me / Tell Nicki she can f**k me on her IG / Barbies is for kids why you tryna be lit / way to old to be forcing sales dropping no hits / time is up I smell fatigue sit down you've reached your peak."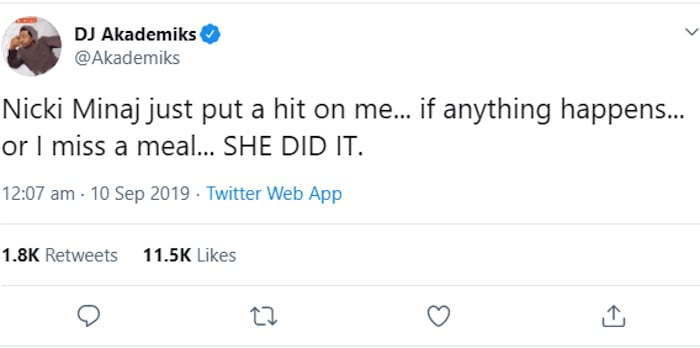 DJ Akademiks also shows screenshots of his conversations with Nicki where she can be seen stating, "You been mad since I made a joke about you with joe on my show. The ppl you rep won't be able to stop ya jaw from getting broke." She also added, "I know too much about your family for you to be playing with me u hoe ass rat. Where u at now?"
In response to the track, one fan commented, "I thought this click bait someone trying to pump their wack ass music….I guess I was right after all," while another added, "I rather hear a 12 hours loop of Rebecka Black- Friday then listen to this again."
Despite the unanimous views that the diss track is garbage, fans are still anxious to see if Nicki will warrant it with a response.