50 Cent is capitalizing off of the crazy story that is Tekashi 6ix9ine.
If you've been following the news about Tekashi 6ix9ine since he took the internet by storm in 2018 with viral, controversial videos, rainbow hair and serious violent beefs up until the last few weeks when he turned into a punch line after testifying against gang affiliates in a federal racketeering case, then you've probably thought to yourself: This would make a great movie. Well, apparently rapper/television producer 50 Cent thinks the same thing.
50 told a fan he was working on bringing Daniel "Tekashi 6ix9ine" Hernadez's story to the big screen. In an announcement about a new ABC show that 50 is involved in called For Life, the Power producer was asked, "You bought the rights to tr3way 6ix9ine movie I'm hearing? This true?." by a fan in the comments. 50 confirmed the rumor and said, "I'm working boy."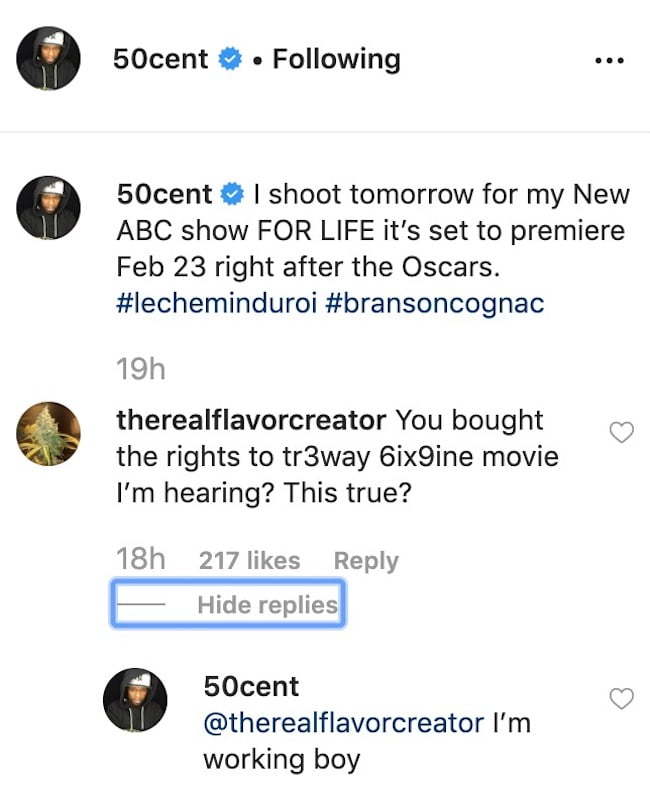 Fif would bring first-hand knowledge to the story being as though he used to call Tekashi the next "King of New York" and even claimed him as his own son. Tekashi's bold "take on the world" attitude that got him a ton of attention reminded 50 Cent of himself when he first came in the rap game. But he has since denounced their relationship once it was reported that 6ix9ine was snitching on other members of the Nine Tr3y Gangsta Bloods in order to get himself a lighter sentence.
His story is not yet finished, however, as the verdict for the two affiliates accused of kidnapping Tekashi, Anthony "Harv" Ellison and Aljermiah "Nuke" Mack, is expected to come later this week, after which the "FEFE" rapper will learn his own sentence. Once the case is wrapped up and 6ix9ine officially decides to accept or reject witness protection, we're sure 50 Cent will get started quickly on filming the movie about one of the craziest moments in hip hop in the last decade.
SnapChat has also announced that they're working on a documentary about Tekashi 6ix9ine rise and fall from grace. The documentary is scheduled for release sometime this fall.