Mavado is getting roasted by Gaza fans after he once again proclaimed victory over Vybz Kartel in the Sting 2008 clash.
Mavado recently dug into his archives to pull out a video of the legendary Sting 2008 clash between himself and his longtime nemesis Vybz Kartel. Most interestingly though is his claim that he won, the vast majority of fans vehemently disagrees. Who won the clash may be still up for debate, but a lot of fans remembered it differently from the Gully Gad. Nevertheless, he managed to bring the topic back into the headlines from a single post on his IG account.
The infamous clash between Vybz Kartel and Mavado took place at Sting back in 2008. It was held on Boxing Day, Friday, December 26, at Jamworld Entertainment Centre, Portmore. Described as 'final frontier' and 'the settlement of all argument,' Sting 2008 saw a massive turnout comprising mostly of fans of both artists in attendance. At the end of the show, many were confused as to who won while others were utterly biased, giving the win to their favorite deejay.
On Thursday however, Mavado decided that he wanted to draw out Vybz Kartel perhaps in the hopes of starting a new beef as he took to Instagram to declare himself the winner 11 years after the battle. The deejay posted a snippet of the battle with the caption, "Dem know who's the real deal Gullygad no joke about it flammable." He went on to post a second clip captioned, "To All the Fans that were there 2008 "bless up" Sting Will never be the same without the war machine Gullygad legendary."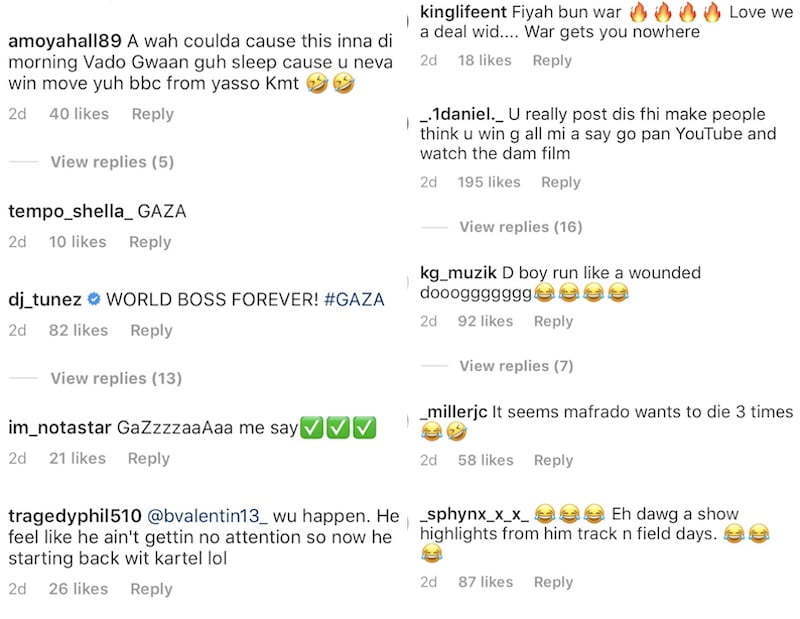 The deejay garnered support from his fans for his statement, however, it seems that an even larger number of them believe that the crown went to Vybz Kartel. Many fans took to pointing out Vybz Kartel's song "Don't Run" mocking Mavado in the process for his hasty exit from the stage. One fan commented, "Man post him own funeral to rass," hysterically laughing while another added, "Gaza Undefeated."
Per the comments on Mavado's post, it's safe to say that Vybz Kartel murdered Mavado in the clash and fans did not hesitate to have fun at Vado's expense. Perhaps these are all Vybz Kartel's Gaza fans, or maybe some are neutral. Whatever your position is on the clash, we can all agree that it was entertaining and will go down as one of the greatest clashes in dancehall history.
Despite being a valuable moment in dancehall's history, the Gully/Gaza feud had an ugly side that forced the two dancehall deejays to publicly make peace in 2009 at the request of then Prime Minister of Jamaica Bruce Golding. The lyrical feud was getting out of control by mid-2009 when some fans started turning against each other, communities against each other, and school kids started attacking each other. Mavado and Vybz Kartel recognized the serious threats of their war and opted to put an end to that chapter of dancehall.