Kim Kardashian West announced that Kanye West's new album, "Jesus Is King" will debut Sunday, September 29th. Amen.
The Wests have been giving fans a little run-around with the release of Ye's new album. At first, everything seemed to be on track when Kim Kardashian first posted about "Jesus Is King" on Twitter in August. The beauty mogul shared a photo of the album tracklist along with the date September 27th and has had us eagerly waiting ever since. When word started to spread in Hollywood a few days prior to the release date that there would be a delay with the album, Kanye West's wife being the public relations expert she is, seemingly rejected the claims on social media.
On Friday when many fans were disappointed that the album didn't drop at midnight, Complex reported that Kanye West's publicist confirmed that "Jesus Is King" would, in fact, hit streaming services on Friday, but at 8 PM. This was the same time as the free impromptu 'Jesus Is King: A Kanye West Experience' that we heard was happening in Detroit.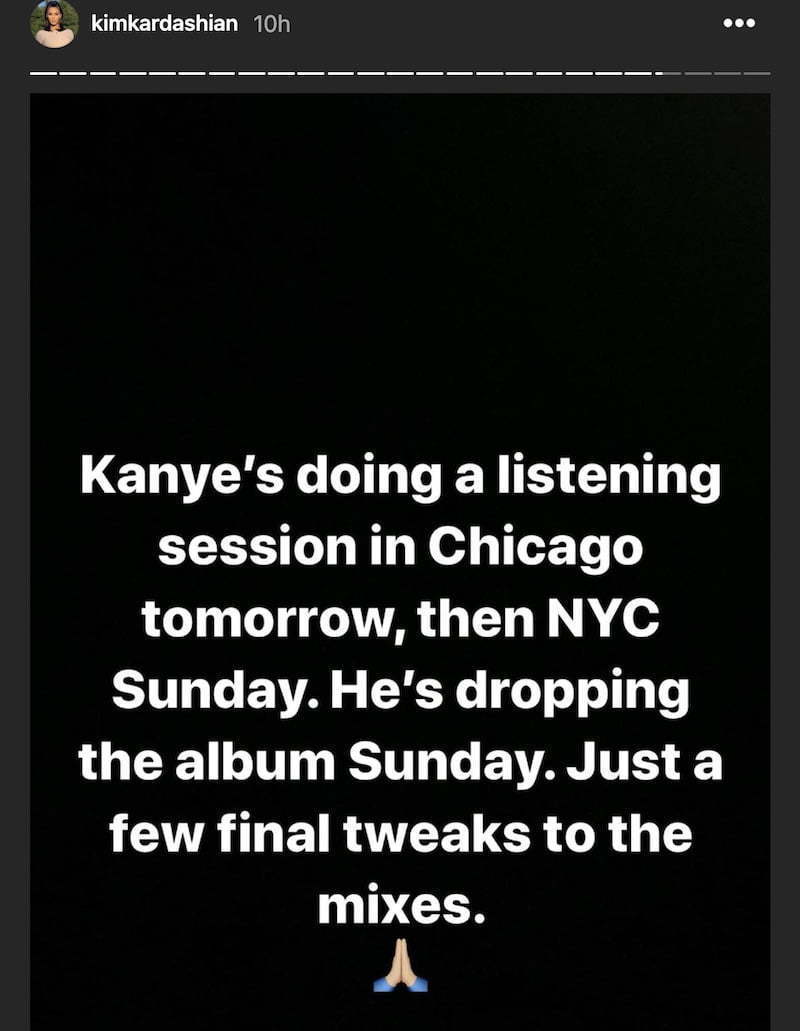 KKW took to her Instagram story to share a sneak peek of the experience inside the Fox Theatre on Friday night. The Imax event gave fans a look at the making of Kanye West's new Imax film 'Jesus Is Lord' which drops this October. Fans also got to listen to tracks from Kanye's new album. According to the beauty mogul, Kanye will be hosting another listening experience in Chicago on Saturday and in New York City on Sunday. The top-earning rapper also plans to drop the album on Sunday after some "final tweaks to the mixes," Kim Kardashian wrote.
At first, we looked at each other in amazement that we allowed the Wests to pull one over on us again. Then we thought, well, Sunday does sound appropriate.