Future and Rocko have squashed their beef after two years.
The "Mask Off" rapper and Rocko squash their long-standing beef, reuniting on stage at Meek Mill's "Legendary Nights Tour." The friendship between Future and Rocko was put through the wringer back in June of 2016 when Rocko took Future to court for breaching their 5-year-old contract. Rocko filed a $10 million lawsuit claiming that Future had signed an agreement with his A1 Recordings Label which states that the company has the right to put out Future's first six albums which Future subsequently broke.
Future knowingly signed a side deal with Epic Records which breached his agreement with Rocko resulting in him being robbed of all royalties earned which goes against their 2011 agreement. Future stated that the whole deal was bogus saying that he never had an exclusive deal with A1. The EVOL emcee also sued for money owed for his album advances and asked the judge to dismiss the suit against him.
Things got pretty ugly and heated between the two with Future dissing Rocko on numerous occasions referring to him as a "con artist" stating, "U gone die fake n**ga! U embraced me as a brother at my worse & try to play me! Ain talk to u in years n**ga! Ain't no n**ga on earth gone take s**t with consequences, judge or no judge n**ga! U a con artist!"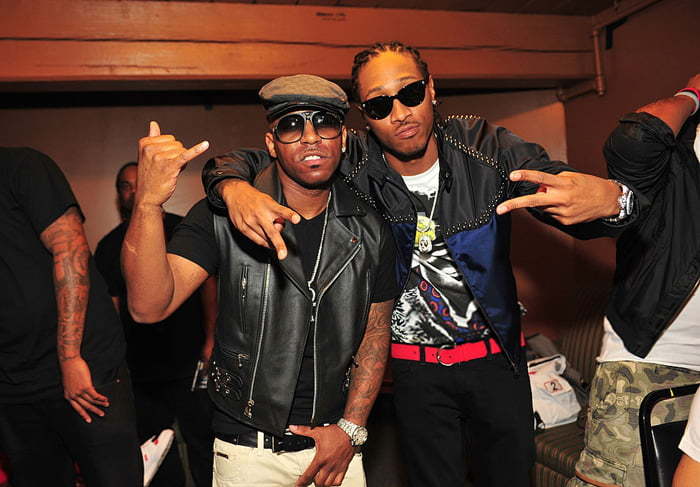 Back in February 2017 in response to the lawsuit Future stated, "Right now we richer than ever you know what am saying. Ni**as go broke they do dumb sh*t. I don't know what's going on but at the end of the day we making hits so if you want to be a part of history you got to do something."
In December of 2017, the case was settled outside of court for an undisclosed amount.
Now it appears the Atlanta rapper and Rocko have patched things up as they reunited on stage for the Atlanta stop of the Legendary Nights Tour. They performed their collaboration, "Chose One" among others in front of their hometown crowd.
In addition to Rocko, other special guests blessed the stage during the Atlanta leg of Future's and Meek Mill's Legendary Nights Tour. The rapper brought out 2 Chainz, 21 Savage, Lil Gotit, and Lil Baby making it a night to remember for fans.
In videos posted on social media of the performance fans have been rejoicing, happy that Future and Rocko could put the past behind them. One fan commented, "Thas hard as hell I can't like this post enough !" while another added, "Rocko stayed Solid thru the whole situation I'm glad to see them work it out! A1FBG."
Let's hope this is the beginning of the two working together on some fire collaborations.
Future & Rocko on the same stage? ATLANTA we just went up one level. Now who ready for #Rocko to drop some new music though? RETWEET ?? #legendarynightstour pic.twitter.com/f7yNl6OB5j

— ATL ? (@ATLMusicPlug) September 23, 2019