Chris Brown and his on-again-off-again girlfriend Ammika Harris rekindled their relationship, and maybe you could thank a slice of melon for it.
The two love birds have been rocked with a whirlwind of rumors over the past couple of weeks about her pregnancy, but she has since shot down those reports. There were also some reports claiming that they've broken up although neither of them ever confirm or deny the story. On Monday, Chris Brown and Ammika Harris suddenly started flirting with each other on Instagram, enough to signal that they're still very much into each other.
Ammika posted a gorgeous photo of herself eating a slice of melon and drinking tea I presumed since she had a green teacup in one hand. "All I'm eating [right now]," she captioned the pic while adding a melon emoji.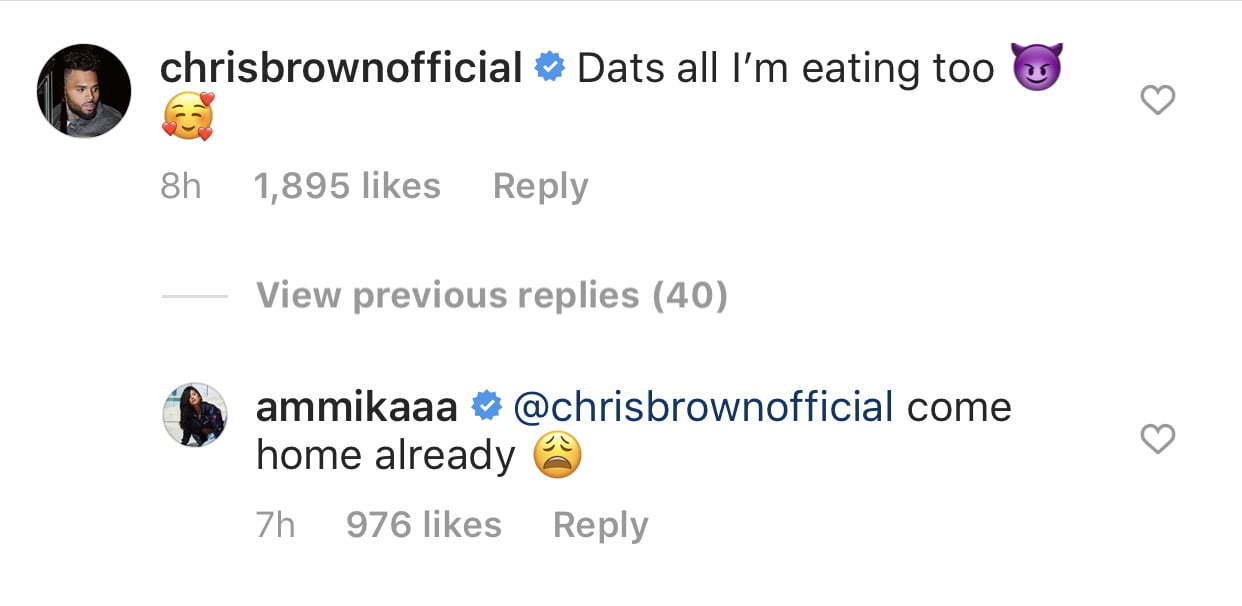 Breezy surprisingly left a comment on the pic where he wrote, "Dats all I'm eating too." Ammika responded to his comments writing, "Come home already." If that exchange is not clear enough to tell you that these two are in love, then you must know something that we don't. Chris Brown is currently touring the country for his "INDIGOAT" tour, and his boo is left back at home in California. Clearly, they're missing each other.
Interestingly, the sudden social media flirting between Chris Brown and his girlfriend Ammika comes just days after he received some backlash for leaving a series of comments on Rihanna's lingerie photo asking to be her lamp. At one point, Breezy started trolling himself over the fiasco. Fans have been weighing in on Ammika's post, and it's clear the lamp thing is not going away anytime soon, and now there is a watermelon in the mix.
"@chrisbrownofficial I didn't know a lamp could eat a watermelon learn something new every day," one female fan wrote while another added, "C'mon son I would rather you just be the lamp now you want to be a whole watermelon too."
Chris Brown and Ammika Harris have been dating on and off for the past year. Earlier this year, he called her his baby mama on IG which helped fueled rumors that she is pregnant with his second child. However, she recently posted a photo showing off her flat tummy which left a lot of fans confused.