Tekashi 6ix9ine was in fact kidnapped but what really took placed during the order is another story.
The federal government has recently released damming video evidence showing the kidnapping of incarcerated rapper, Daniel Hernandez better known as Tekashi 6ix9ine. The trial, which started on Monday has been on almost everyone's lips and is the number 1 trending topic on Twitter. The rapper, who is the star witness for the prosecutors, has faced heavy backlash for his agreement to provide information on his fellow Nine Trey Bloods gang members.
The last few days of testimonies have seen the prosecution slowly working to build their case against the accused, Anthony "Harv" Ellison and Aljermiah "Nuke" Mack. The prosecution team has provided evidence, through the artiste's music video, songs, and social media accounts. All this was done to clearly define their relationship the rapper had with the two persons on trial.
Back in August of this year, Devereaux Cannick, Anthony "Harv" Ellison defense lawyer, mentioned that the car used for the alleged incident was wiretapped by the government. He also dubbed the whole kidnapping incident a publicity stunt by the eccentric rapper staging the kidnapping incident for clout. The video may include one of the most crucial pieces of evidence provided in the trial.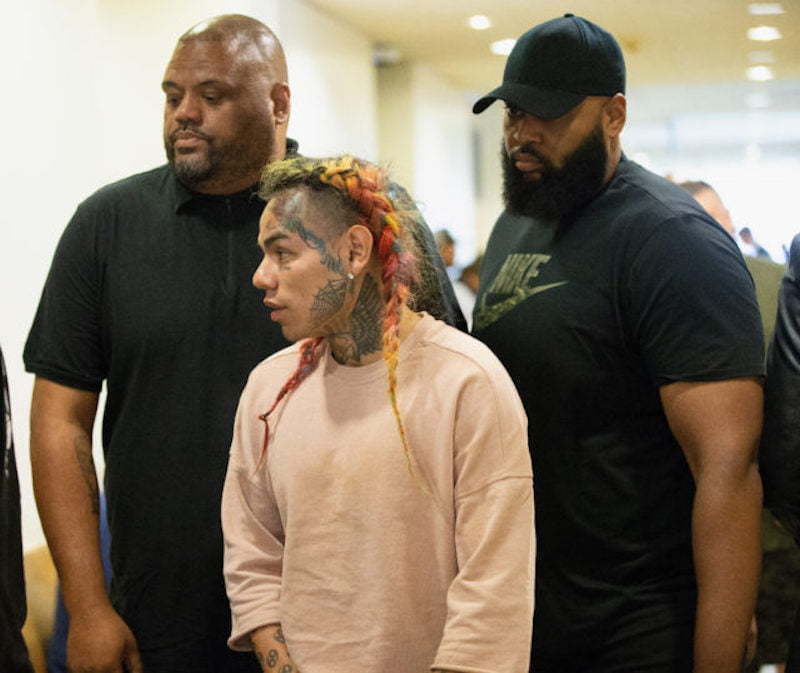 The video was processed by the Federal government, which included subtitles for when Jorge Rivera was speaking. The playing of the video in court was likely done to make it easier for the jury to understand what really happened on the night Tekashi 6ix9ine was kidnapped and robbed. Some of the footage was captured by the overhead camera in the back of the SUV. Meanwhile, most seem to have been taken from the dashboard camera of 6ix9ine's personal driver's car. It is alleged that the rapper's driver had a camera in the car for insurance purposes.
Video captures what seems to be a very shaken Tekashi69. Below are a few excerpts from the video of the dialogue between the rapper and his captors.
1 minute and 44 seconds into the video, Harv says, "Get in the car. Get in the Car. Aight get in the car. We gonna shoot you." The rapper responds countless times begging, "Harv, you know I'll give you everything, Harv."
"You know you bugging me though son," to which the Daniel responds, "You know I always done right by you."
The rapper's driver is being hailed as brave and a hero for trying to follow the car Hernandez was placed in and for making the distress call.
The defense should be responding in within the next coming days, and it will be interesting to see how they cross-examine the star witness and counter the prosecution's case.
You can view the entire video below.