Tekashi 6ix9ine racketeering trial update. The New York rapper detail in court today that he ordered the beatdown of rival rapper Trippie Redd.
Tekashi 6ix9ine took the stand today to continue testifying in the trial against his Nine Trey gang members. On Tuesday, the rapper informed the court that fellow rapper Trippie Redd was a part of the Five Nine Brims gang. Now today, the rapper divulged details about an attack he orchestrated on his rival Trippie Redd.
Fans were shocked and dismayed to find out that Tekashi was offering up info on rapper Trippie Redd. The pair were known to be friends at one point, and many could not understand why Tekashi would voluntarily snitch on him. The two came into the rap game at around the same time and even collaborated on music together. However, Tekashi, now called Snitch9, name-dropped Trippie and is focusing a large part of his trial on his rival. While on the witness stand today, the rapper went into great detail about a hit he set up for Trippie Redd.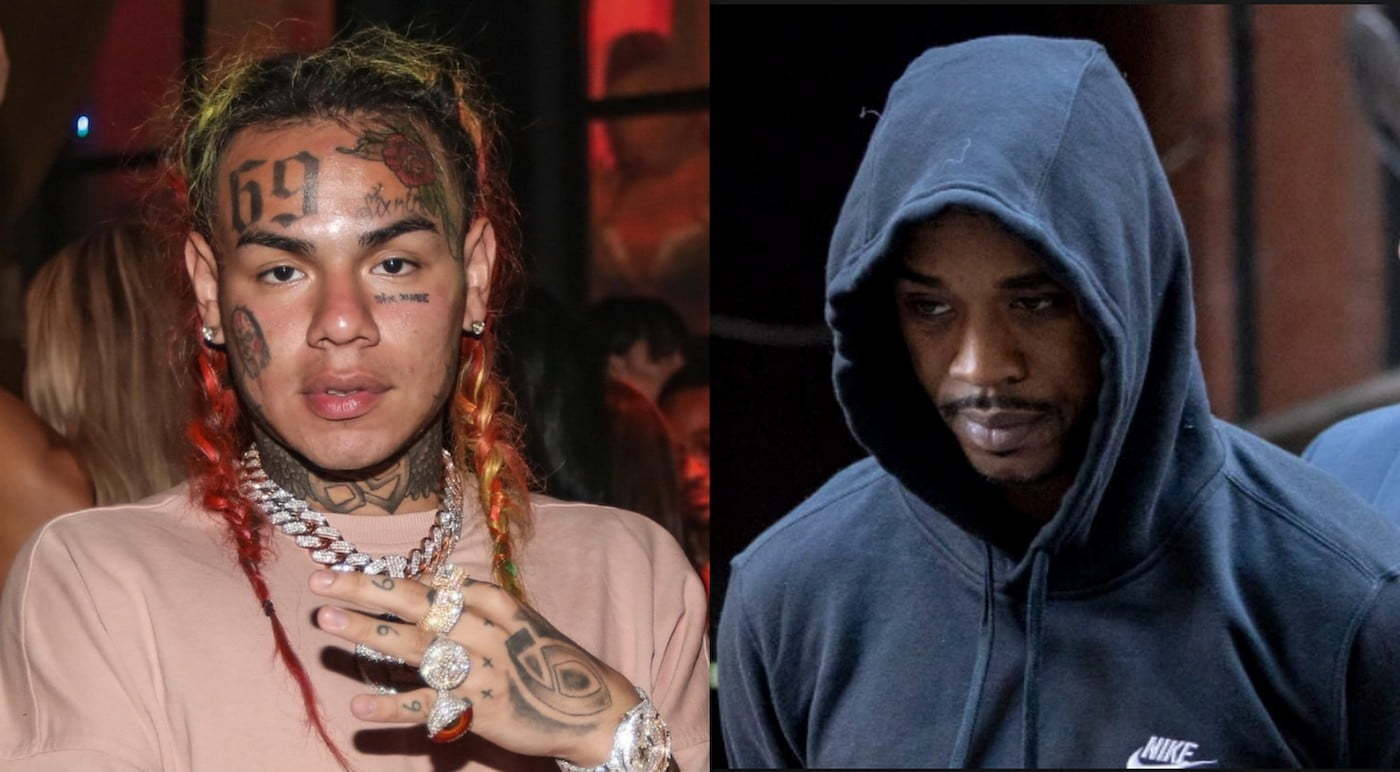 The rapper explains where his issue with Trippie Redd stemmed from, "My main dispute with Trippie Redd, he was with another set of Bloods… So was Casanova," 69 said. "Me and Trippie Redd were signed to the same label… There's a lot of jealousy involved. He was signed first. I later on signed, a couple of months after. We had a song together, it was successful. Then jealousy, we got into online disputes."
Tekashi 6ix9ine then recounts the attack that took place at a hotel, "Trippie Redd's manager said he wanted to squash the beef. At the time I was very upset with him, he has already said a lot. Trippie Redd's manager gave us the address of his video shoot. I told Shotti I wanted something done about Trippie." To which the rapper claims Shotti told him, "Say less, we'll get on top of it."
He then added, "Shotti said Harv punched Trippi Reed in the mouth," to which he further explained that he gave Harv the role of his bodyguard after hearing how he dealt with Trippie.
Tekashi is currently still on the stands, and fans are anxious to hear what other sensitive details the rapper will divulge.
#69x9ine says, echoing yesterday's testimony: my main dispute with with Trippie Redd. "He was with another set of Bloods…. So was Casanova."

Gov't exhibit 24 is Trippie Redd, 24a his "name plate."

— Inner City Press (@innercitypress) September 18, 2019
"Me and Trippie Redd were signed to the same label… There's a lot of jealousy involved. He was signed first. I later on signed, a couple months after. We had a song together, it was successful. Then jealousy, we got into online disputes."

— Inner City Press (@innercitypress) September 18, 2019
"We attacked him [Trippie Redd] at this hotel."
Q: Can you walk the jury through what happened?
A: Of course. Trippie Redd's manager said he wanted to squash the beef. At the time I was very upset with him, he has already said a lot.

— Inner City Press (@innercitypress) September 18, 2019
Trippie Redd's manager gave us the address of his video shoot. I told Shotti I wanted something done about Trippie. Shotti: "Say less," we'll get on top of it.

We go to Red Hook or around there, industrial area. I'm in a Jeep. We see Trippie Redd's sprinter van

— Inner City Press (@innercitypress) September 18, 2019
We surveillanced it, waiting for Trippie Redd. Shotti said he had a few of the homies meeting up with us there. We stake out, Trippie Redd comes, gets in with 15 people. We follow him for an hour on the highway. I recall Harv coming in 4 door Honda

— Inner City Press (@innercitypress) September 18, 2019
The sprinter van gets to the hotel. We don't wanna get spotted. Shotti gets out, tells me to stay in the car. Harv parks parallel to the hotel. He's with like three other guys. Shotti comes back screaming, It's f-cking Trey Way, I love me Ns, we got that N

— Inner City Press (@innercitypress) September 18, 2019
#6ix9ine: Shotti said Harv punched Trippi Reed in the mouth.
(for some reason, Harv's lawyer has not objected – maybe it'll come up on cross-examination.)

At this point in time did Harv assume a role with your entourage?
I used him as a body guard

— Inner City Press (@innercitypress) September 18, 2019
After the incident with Trippie Redd I saw that Harv was more of a doer. He's a big guy. I gave him the enforcer job.
Q: At this point, what was Mr. Ellison's, Harv's, role in the gang?
Judge Engelmayer: Basis? How does he know?

— Inner City Press (@innercitypress) September 18, 2019
Shotti told me, quote, I'm the Big Homie. Obviously, Mel was the Godfather. And Harv just underneath.
Q: were there other times Harv protected you?
A: Gummo just came out. I was in a T-Mobile store, some dude was waiting for me. Harv came-
Q: What he armed?

— Inner City Press (@innercitypress) September 18, 2019