Tekashi 6ix9ine is in the hot seat today in court as he comes face to face with his ex gang members who are on trial.
Today starts what may just be one of the most important weeks in the life of Brooklyn rapper, Daniel Hernandez, better known as Tekashi 6ix9ine. The "Gummo" rapper is set to provide key and crucial testimonies against his former Nine Trey Bloods gang members, who according to prosecutor Geoffrey S. Berman, "wreaked mayhem on the Big Apple, collaborating in brazen acts of violence."
Initially, the case was expected to begin on September 09, 2019; however, it was pushed back to Monday, September 16. Much like any other case, the initial process includes the selection of a competent jury; which should take up most of what will happen today. The truth is, the "FEFE" rapper could take the stand even as early as Tuesday, September 17, 2019.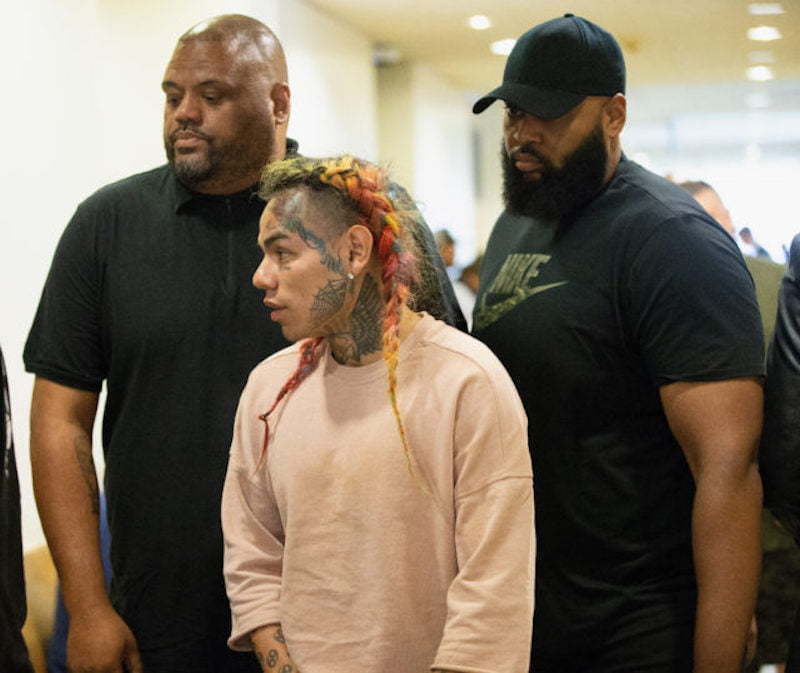 Hernandez has been kept in an undisclosed location following his agreement to work with the federal prosecutors to cut a deal for a reduced sentence. This came after the rapper pleaded guilty to racketeering charges which would have seen him serving a minimum of 47 years behind bars.
American rapper and hit TV-show producer 50 Cent has blasted 6ix9ine and even relinquishes the title of 'his son' that he gave to him. 50 Cent grew up in the tough streets of the South-side Jamaica neighborhood of Queens, and like many others are against people who snitch.
According to a credible source, the rapper is not necessarily going against Nine Trey Bloods. The source further revealed, "It's not like he ratted out on his homeboys he knew since he was 3 years old. He barely knew them."
The argument brought forward by the prosecutor is that the rapper's music sales were the main cashflow keeping the gang afloat. Members were upset when the Brooklyn rapper decides to put an end to funding the gang's activities, which is what prompted his alleged kidnapping.
If all goes as planned for the prosecutors, the jurors' panel is expecting to hear the Brooklyn rapper confessing that his wild and seemingly lawless music and videos are real depictions of the acts of violence carried out by him and fellow Nine Trey Bloods gang members. The video for "GUMMO" is one such example, which depicts Tekashi and other participants, posing with what seems to be narcotics and guns. Most of the video shows persons dressed in red colored garments, which can be seen as an identifier for connections to the infamous Bloods gang.
Anthony "Harv" Ellison and Aljermiah "Nuke" Mack, whom the rapper is testifying directly against, should see their lawyers' arguments centered around Tekashi69 being nothing more than a marketing genius and his videos being nothing more than "selling himself and his albums."
The outcome of this case will definitely change Hernandez's life forever, and if all goes as planned, it may just be the leg up that law enforcement has been looking for when it comes to changing the country's mindset about snitching.