Kanye West was in a giving mood on Sunday and DJ Khaled was at the right place at the right time to cop some unreleased Yeezys.
It was quite the eventful few days in Atlanta this weekend. There was the three-day Revolt Conference which showcased panels and parties throughout the weekend, and of course, Kanye West's Sunday Service was also held in Atlanta this Sunday. Such a combination could only mean multiple celebrity sightings and even more social media posts to share.
The latest video making the rounds online involves two of the industry's biggest names right now – Kanye West and DJ Khaled. In the short video captured by who we can only assume is a close associate of DJ Khaled, the two musical geniuses are seen greeting each other and engaging in a brief conversation on the tarmac of the Atlanta airport where both A-lister's private jets awaited them. Though it was inaudible, it seems the two had a delightful conversation as they kept smiling the whole time.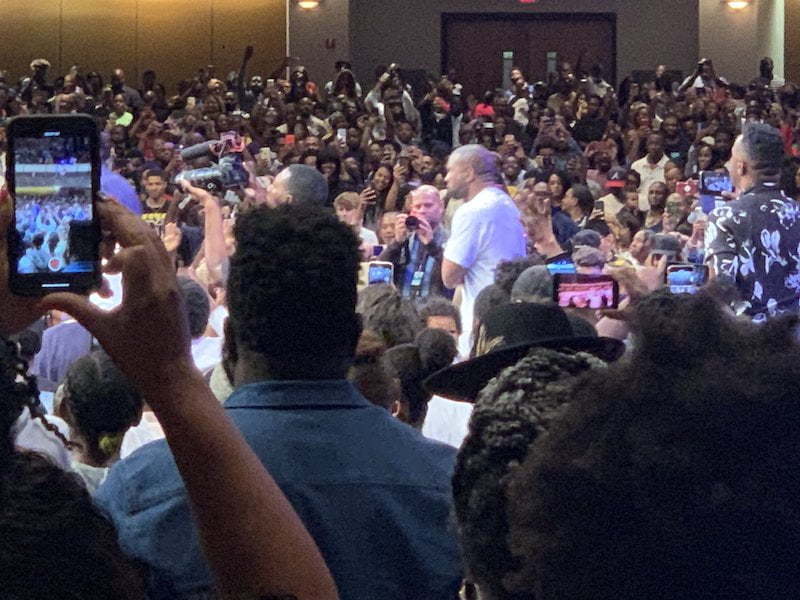 In the next part of Khaled's Instagram story, Ye is seen wearing only a pair of socks while Khaled held his shoes in his hands as they hugged farewell. Ye literally took off his unreleased Yeezy 700 V3's right there on the runway and gave it to Khaled like it was nothing before casually walking back to his private jet. As Khaled did the same, he smiled down at his nearly-new Yeezys like a teenager who waited all year for the newest release of their favorite video game.
It was DJ Khaled who just gifted Offset two brand new pairs of custom "We The Best" Jordans worth a total of $30,000. What's that saying, "Give, and it will be given to you"? Well, this case is a prime example of what happens when we give selflessly; or when celebrities give selflessly seeing as these gifts are far beyond some of our pay grades.
Kanye giving DJ Khaled the Yeezys off his feet at the airport today. ? @djkhaled pic.twitter.com/6KVf2XPjU1

— TeamKanyeDaily (@TeamKanyeDaily) September 15, 2019
SUNDAY SERVICE!!!! INCREDIBLE AND LIFETIME EXPERIENCE, THANK YOU KANYE pic.twitter.com/cfmgOpV92R

— boogley woogley (@torbor_44) September 15, 2019