Kanye West drew several Atlanta celebrities out to his Sunday Service on Sunday, September 15.
Kanye West has been successfully hosting his Sunday services for quite some time now, and the celebrity turn out has steadily increased with the numbers. This week Ye's Sunday Service took place in Atlanta, Georgia which is home to rappers like 2 Chainz, T.I., and even comedian Chris Tucker who were all in attendance at today's event.
Today's service, unlike the previous consecutive outdoor gatherings, saw a congregation inside a large auditorium in the city and also had a Livestream. Kanye reportedly made a moving speech, taking long pauses between sharing his thoughts on faith. Comedian Chris Tucker who is also a baptized Christian, shared a photo of himself and Yeezy at this morning's event where he is seen decked out in a navy blue suit and tie with a bible and bottled water in his hand.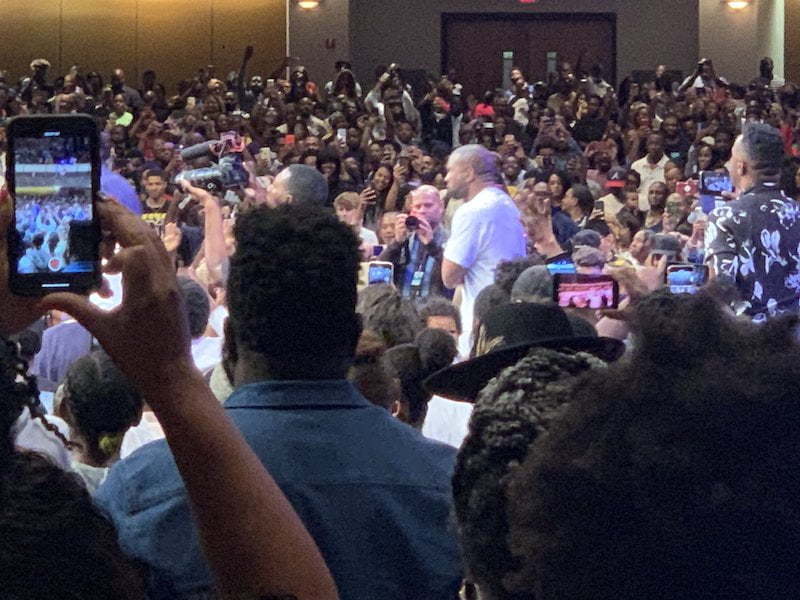 According to Kaney fan page on Twitter, TeamKanyeDaily, "Some of the celebrities in attendance at Sunday Service in Atlanta today include Nelly, Jermaine Dupri, Lil Yachty, T.I. and 2 Chainz."
Since the inception of Kanye West's Sunday Service, it hasn't gone a week without being questioned. People everywhere are curious to know what actually goes on in the services and what denomination of Christianity Ye is a part. Kanye's wife, Kim Kardashian West appeared on The View this week and discussed in detail what her husband's Sunday services are really about.
Kim explained that Kanye started his Sunday service as a way to "heal himself" and that it was a personal venture with just his family and friends. She went on to say that Ye has had an amazing evolution of being born again and saved by Christ and made it clear that it's a Christian service that is primarily a musical ministry but will also have Pastors speak as well. Last week's Sunday Service was the biggest yet and was held at The Huntington Bank Pavilion in Chicago where close to 10,000 people were let in for free.
No matter what go on…He's
Always gon be my brother ??
Love to see him at peace with his self again. Felt like the old Ye'… With a new purpose. Made my day. #SundayService pic.twitter.com/K9752nju1x

— T.I. (@Tip) September 15, 2019
Let da church say Amen ?? …. ExpediTIously ?#SundayService pic.twitter.com/gyhH54SCfL

— T.I. (@Tip) September 15, 2019