Did Nicki Minaj put out a hit on DJ Akademiks?
The DJ is no stranger to conflicts among the major players of hip hop, with a lot of his comments made during his Twitch livestream and on Everyday Struggle. If you were to watch even a minute of his program, you would be able to grasp the comedic tone in a lot of what he says. The reality is a lot of his jokes turn into punches that connect pretty hard to the persons under the microscope. The likes of Soulja Boy, Meek Mill, Eminem, the late Nipsey Hustle and now Nicki Minaj, have all had run-ins with the Jamaican born DJ.
DJ Akademiks, whose real name is Livingston Allen, made his was way to New Jersey during the early 2000s and has since grown in popularity within the hip hop and R&B community since then. This may be one of the reasons why the Trinidad born mega superstar Nicki Minaj went after him after he stated that she needs to address why her album sales aren't doing well. "Ask her about Drake. Ask her why the f*ck is her music flopping," he said. "'Megatron' went on the charts and fell the f*ck off in four weeks."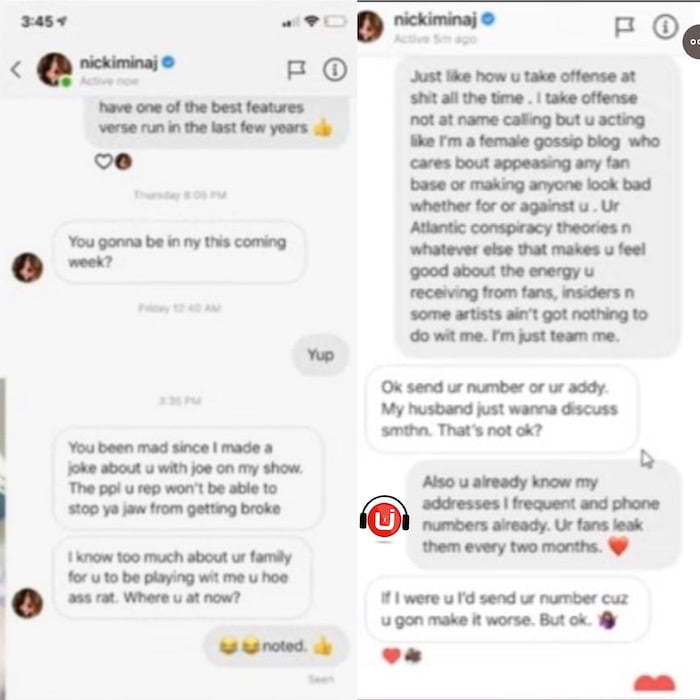 DJ Akademiks seemed to have started a fire in Nicki who sent him direct threats to his Instagram account. The podcaster made the actual comments public. "The people you rep won't be able to stop your jaw from gettin' broken," Nicki Minaj wrote in AK DMs. "I know too much about your family for you to be playin' with me, you hoe ass. Where you at now?'" In his usual comedic tone, he replied, "Your threat is received. We'll see each other at some point. Take care, babe."
The DJ has taken to Twitter with posting, "Nicki Minaj just put a hit on me… if anything happens… or I miss a meal… SHE DID IT."
One commenter made light of the situation, stating, "Nicki hasn't been able to put out a hit in years you'll be fine."
Another one of Akademiks latest post includes his showcasing a video with a pair of white sneakers, captioned "Damn… Complex told me I'm on my own dealing with Nicki Minaj n her killer goons.. they gave me these n said 'Stay Safe in these Skreets.'"
The Jamaican born, New Jersey-based DJ was cited as saying "he exists so artists don't think that they can play the "sweet person" card in public and act differently behind the scenes. We just hope that this latest run-in does not turn into anything physical.
Nicki Minaj just put a hit on me… if anything happens… or I miss a meal… SHE DID IT.

— DJ Akademiks (@Akademiks) September 9, 2019
Damn… Complex told me I'm on my own dealing with Nicki Minaj n her killer goons ??.. they gave me these n said "Stay Safe in these Skreets" ???? pic.twitter.com/z6oyfmn0UH

— DJ Akademiks (@Akademiks) September 10, 2019