Cardi B is defending her Grammy win and said she deserved it after the work she put in while pregnant.
Cardi B's debut album Invasion of Privacy is still charting over a year after it dropped and the Bronx superstar opened up about the grueling process of recording the project while she was pregnant with her daughter Kulture. Cardi took to Twitter Wednesday to address the naysayers that criticized her Grammy win for Best Rap Album. She cleared up any rumors that she had tension with Travis Scott, whose Astroworld album was also nominated in that category and was the hot favorite to win.
"On my album I showed different sides of me. From my intro talking about my [past.] To living my best life inspiring people. Relationship songs while I was going thru my own relationship drama to shaking a*s like Bodak & that A*S. Every song went platinum," her rant began.
The "Please Me" rapper then detailed how she had to push through illness from her pregnancy while working in the studio. She spoke about throwing up, being drowsy, and having "terrible colds," all so that the album would be completed before she started showing signs of pregnancy in her music videos.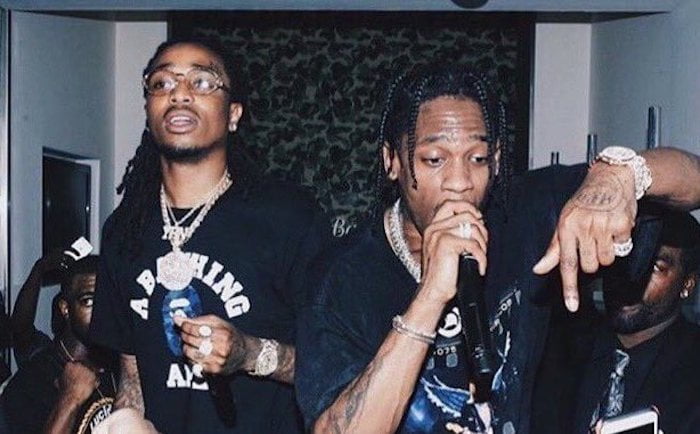 "I wasn't even thinking of winning or even the Grammies," she continued. "All I can think about was …everybody is disappointed in me, am I still going to have a career after this baby? Is this album going to make me or break me? I need to finish before I start showing."
Cardi then revealed that some artists were trying to charge her six figures for a feature on her album and that her husband Offset, one-third of the Migos, had to call in some favors on her behalf.
"When I kept seeing the certifications of the songs going gold or platinum I was so excited 'cause my husband was out here asking everybody for a feature on my behalf so the ones that said yes thank you from the bottom of my heart cause TRUST ME A LOT OF ARTIST SAID NO!"
After her Grammy win, critics said that Travis Scott's Astroworld and/or Nipsey Hussle's Victory Lap albums were snubbed, but Cardi revealed that the late rapper himself congratulated her and now she uses that as inspiration to encourage other up and coming acts.
"When I won Nipsey said on a comment to me WHEN IS YOUR TIME IS YOUR TIME! Now when I speak to upcoming artist or people who ask me for advice I tell them the same thing! WHEN IS YOUR TIME IS YOUR TIME and when it comes don't let nobody take that special moment away from you !" she said.
Amidst her rant, the 26-year-old replied to a comment from a fan that claimed Cardi would stop Offset from working with Travis Scott. She quickly clapped back and assured she and Travis have a good relationship and one award was not going to change that.
Catch her full rant below.
On my album I showed different sides of me.From my intro talking about my https://t.co/xSGBV4duiP living my best life inspiring people.Relationship songs while I was going thru my own relationship drama to shaking ass like Bodak & that ASS .Every song went platinum!

— iamcardib (@iamcardib) August 28, 2019
I did it all while I was pregnant.Throwing up, drowsy,terrible colds and in a rush to finish it so I can start doing music videos before I started showing .I spend 24 hours for months sleeping on a couch with my pregnant depressed ass in a studio .

— iamcardib (@iamcardib) August 28, 2019
I wasn't even thinking of winning or even the Grammies. All I can think about was …everybody is disappointed in me,am I still going to have a career after this baby ? Is this album going to make me or break me ? I need to finish before I start showing .

— iamcardib (@iamcardib) August 28, 2019
All while I just separated from my long time manager.I had to get my husband to talk to my label cause I never had a relationship with them so we all came together to relocate me to Atlanta and Miami to finish my album before my stomach start showing.

— iamcardib (@iamcardib) August 28, 2019
When i kept seeing the certifications of the songs going gold or platinum I was so excited cause my husband was out here asking everybody for a feature on my behalf so the ones that said yes thank you from the bottom of my heart cause TRUST ME ALOT OF ARTIST SAID NO!

— iamcardib (@iamcardib) August 28, 2019
OR CHARGING 6 figures for a feature.

— iamcardib (@iamcardib) August 28, 2019
So when I won a Grammy for it I didn't have no words to say but when I went home I started reminiscing on what I went thru during that period I was like YEA BITCH YOU DESERVE THIS SHIT !abd until this day my shit still charting .

— iamcardib (@iamcardib) August 28, 2019
When I won Nipsey said on a comment to me WHEN IS YOUR TIME IS YOUR TIME! Now when I speak to upcoming artist or people who ask me for advice I tell them the same thing ! WHEN IS YOUR TIME IS YOUR TIME and when it comes don't let nobody take that special moment away from you !

— iamcardib (@iamcardib) August 28, 2019
Ya some grown ass men talking about dragging cardi cause I won a award for a bomb ass album .Mind you I myself promoted astroworld on my page when it came out and have a good relationship wit trav while ya some small dick men talking bout draggginh a girl . https://t.co/8ad0TpRwtO

— iamcardib (@iamcardib) August 29, 2019