Young Thug said he and Rich Homie Quan's friendship is over.
Young Thug and Rich Homie Quan may have given us some of our favorite hits of the last few years, most notably the Rich Gang summer hit "Lifestyle," but it doesn't look like the duo would ever come together on a record again, according to Thugger himself. The Atlanta rapper sat down with Big Boy's Neighborhood morning show and revealed in an interview that he and Quan's relationship soured after he said some homophobic things about Young Thug on stage during a performance. In 2015, a fan groped Rich Homie Quan during a show and the now 29-year-old rapper responded saying he wasn't with that "gay sh*t" like Young Thug, a comment that Thug did not take kindly to.
"It's nothing about music. It's 100 percent personal. Now it's like, man you probably can't never get the blessing of having me on a song and I can never get the blessing of having you on my song again," he told Big Boy Wednesday morning.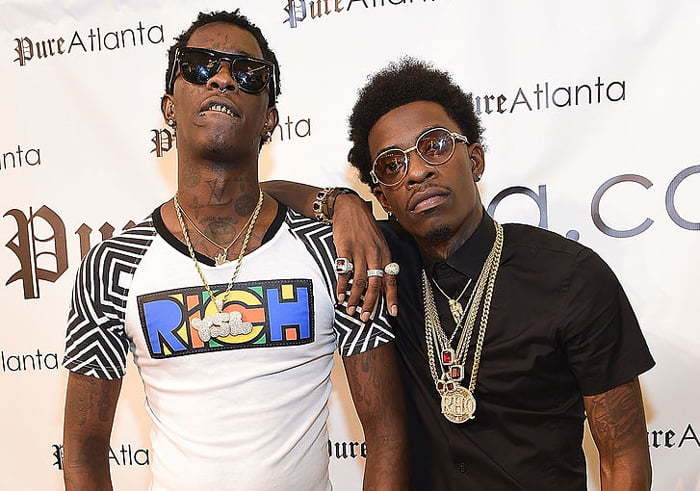 Before describing the incident that broke their friendship, however, the "So Much Fun" rapper said he doesn't harbor any hard feelings towards Rich Homie, but things will never be the same between them.
"We don't have no problem. I don't think we can be like how we used to be. He already just did some bullsh*t and he already know my heart so … I'm too pure. So you do that and it's like … no. I forgive, I'll always forgive. If I kill a person I'll pray to God that he forgive me. If I do something to a person, I pray I get forgiveness, so I always forgive. I don't ever hold grudges on nobody I forgive everybody."
Young Thug said his feelings were hurt after Rich Homie's public comments, although he denied in the same Big Boy interview that he was gay. He blamed Quan's behavior on the alcohol and said he may not have meant any harm, but what was done was done.
"I forgive him because I know he really be drunk. Quan get drunk. He get drunk to the point where I have to carry him out the club. So I know for a fact he was drunk."
So it seems as though we won't be getting another complete Rich Gang project anytime soon. Thug wrapped the subject up by saying he doesn't think a conversation can be had, and that the two have gone about their own business for the time being.
Young Thug explains why he and Rich Homie Quan can't be all the way cool again. pic.twitter.com/Fr5ZBunFio

— Rap All-Stars ? (@RapAllStars) August 21, 2019