Tekashi 6ix9ine is in fear for his, and his family's safety as his kidnapping trial draw near.
6ix9ine, born Daniel Hernandez, is expected to testify in open court next month against his alleged kidnappers where he will share his side of what happened the night he was allegedly kidnapped and robbed. Hernandez, who has been incarcerated since 2018, reportedly orchestrated the whole kidnapping ordeal as a publicity stunt to sell music. Anthony "Harv" Ellison and Aljermiah "Nuke" Mack are accused of capturing 69 and robbing him of over $750,000 in custom jewelry and about $35,000 in cash on July 22, 2018.
The suspects claim Tekashi 6ix9ine faked the kidnapping for publicity in order to promote his song 'FEFE' featuring Nicki Minaj.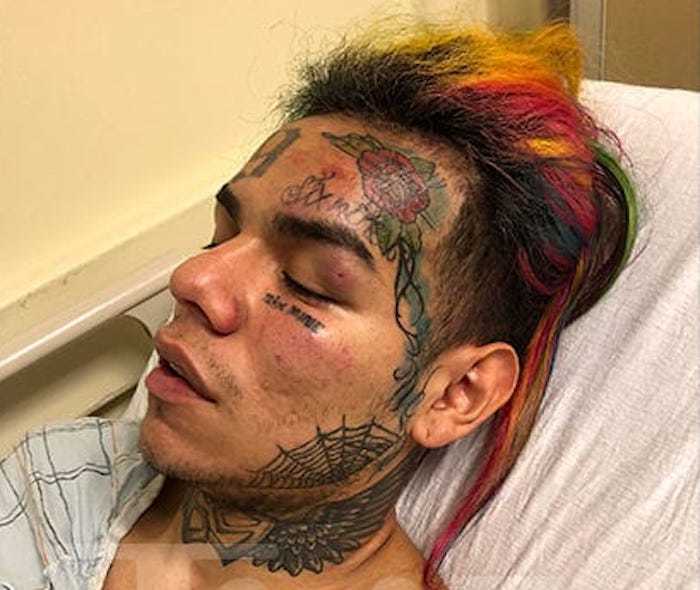 "No robbery or kidnapping or assault happened," Ellison said. "He was about to drop another album…gotta get that buzz up. That's how he makes money." Ellison is a former member of 6ix9ine's management team and allegedly has ties to the Nine Trey Bloods which is the same gang that Tekashi was associated with before incarceration.
Now Tekashi 6ix9ine is between a rock and a hard place. He was facing up to 47 years for nine federal charges prior to his plea deal with prosecutors. He is now required to cooperate with the feds and testify against his former friends, but he still believes that his loved ones are vulnerable if the Nine Trey Bloods want to seek revenge for him snitching on them. Tekashi has reportedly already spent thousands of dollars on security to protect his mother.
TMZ reported that a source connected to the case told them that, "6ix9ine's crapping his pants over testifying — worried about how his mother and brother could be harmed, and also for his own safety behind bars."
Obviously, Tekashi 6ix9ine is aware of how dangerous the situation is and rightfully fears what his whistleblowing might cause him and his family. The New York rapper is slated to testify in September when the trial is scheduled to begin.