Dancehall artiste Squash sent a prompt response to Alkaline after his 6ix diss in latest track, "Depend Pan Nobody."
The Vendetta boss told the 6ix Boss that he is no boss and is better off running across the place than running the place (a slight to his weight). Squash did not hesitate to reply to Alkaline in his music and on the gram. In his new song 'Bull Dog," Squash addresses what he believes is the source of Alkaline's grief.
Alluding to Alkaline's noticeable absence from the music scene earlier this year as the 6ix takeover was occurring. Squash says in the track, "Dem run weh lef dem place an come back it change up / We got the carbon 15 clip dem tape up / Dem deh p—y deh fi shub up and get him face buss / Dem a gwan like dem a di best, you a dream so wake up."
The 'Trending' deejay is clearly trying to give Alkaline a reality check here. Squash also took to Instagram with a few words for the Man Himself. In his public message Squash wrote, "Mi seet seh a sumadi dem a look fi save dem career mi afi lough tpc but dem fi know seh me nuh savior so try help unu self likkle Gunbag. And me know betta eno but some likkle boy fi know me nuh tek style and me nah look paah unu so me nuh care Wah unu fowud wid."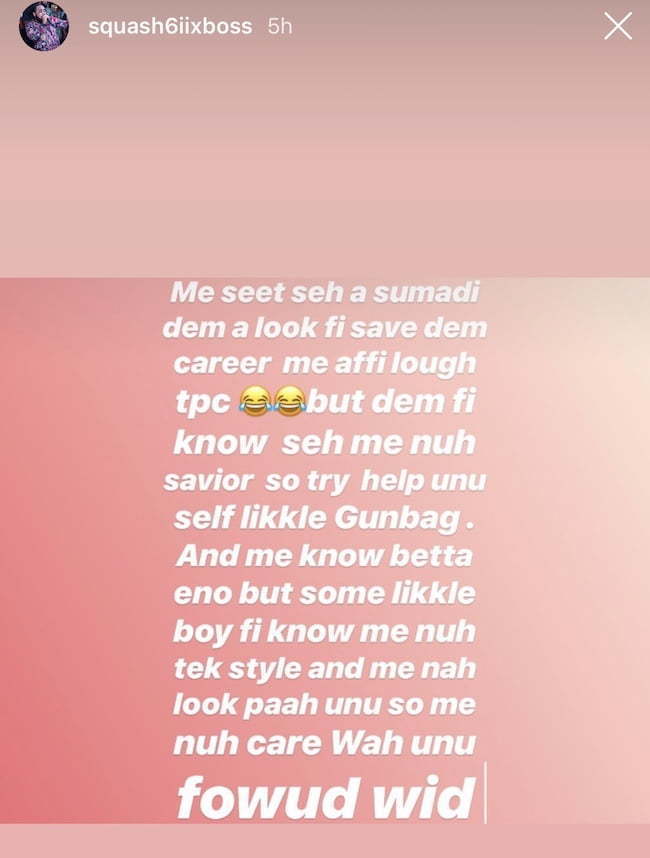 Most fans found amusement in the way Squash spelled "lough," but others focused on the bigger picture. It sounds like the 6ix boss is gearing up for anything Alkaline has to offer next and is prepared to combat any of his impending moves.
A musical clash between Squash and Alkaline has long been highly requested by fans. It appears the tension has finally reached maximum capacity, and now a Vendetta vs. 6ix narrative is brewing. We can't wait to hear what comes next.