LFN Lucci and Young Thug are going to war over Jerrika Karlae.
Thugger's new album So Much Fun is now out, and it's been getting some positive feedback except for YFN Lucci who calls the project trash. It's not very often that we see two Atlanta rappers beefing, but Young Thug and Lucci's feud goes way back. Apparently, the "Heartless" rapper is not feeling the album, or it's because of his longstanding beef with Thug. There are also some rumors claiming that he used to date Karlae and now he is saying that he has slept with her.
According to Lucci, he ran up on Thugger in Lenox recently and he "Almost sh**ted on his self." Young Thug has since responded saying that he is going to put hands on his enemies on sight. Thugger's girlfriend Jerrika also responded denying that she has ever slept with Reginae's on-again-off-again boyfriend.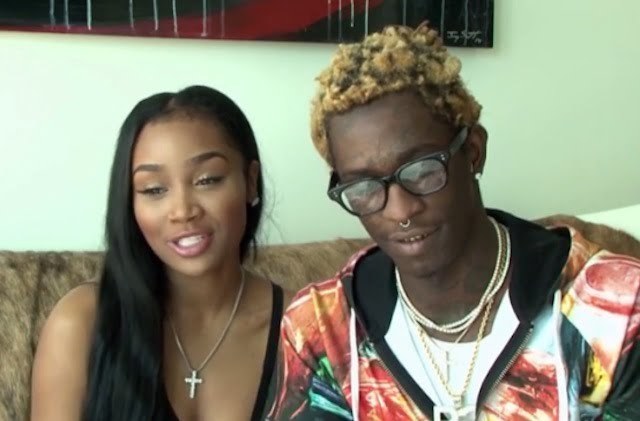 "Imagine someone speaking on your name that you never f***ed, imagine being harassed year by year by a n***a that has no comeback so he taunts a female," Karlae tweeted. "I don't expect anything any woman on earth to turn her back to disrespect…stand up for yourself or FALL FOR ANYTHING."
Young Thug also addressed the situation on his Instagram Live and even posted a photo of YFN Lucci's Mercedes-Benz GT parked at the mall. "Nice Car," he wrote on his story. It's unclear if that was a threat or if he is just letting YFN knows that he has eyes on him and can take him out anytime.
This beef is getting pretty ugly, and someone could get seriously hurt if they don't end it soon. A few months ago, YFN Lucci's car was shot up in what seems like a random attack, but it could very well be targeted.
imagine someone speaking on your name that you never fucked, imagine being harassed year by year by a nigga that has no comeback so he taunts a female !

— IG : OKAYKARLAE LIL BITTY BITCH (@OkayKarlae) August 18, 2019
I don't expect anything any woman on earth to turn her back to disrespect…stand up for yourself or FALL FOR ANYTHING

— IG : OKAYKARLAE LIL BITTY BITCH (@OkayKarlae) August 18, 2019