Did I-Octane went too far by mentioning Konshens' dead brother in their beef?
The I-Octane and Konshens beef has intensified over the past week. Now The Subkonshus deejay's late brother Delus' name is being called. Boundaries are no longer being observed as a dead family member name is being called. There has been a lot of back and forth since the inception of this online banter that started with Octane ridiculing Konshens for wearing a top that he said could very well pass for a woman's blouse.
The latest installment of their ongoing Instagram feud has certainly crossed some risky lines. In a lengthy post shared to his Instagram on Friday, Konshens threw shade at I-Octane for "sacrificing" his colleague during a performance.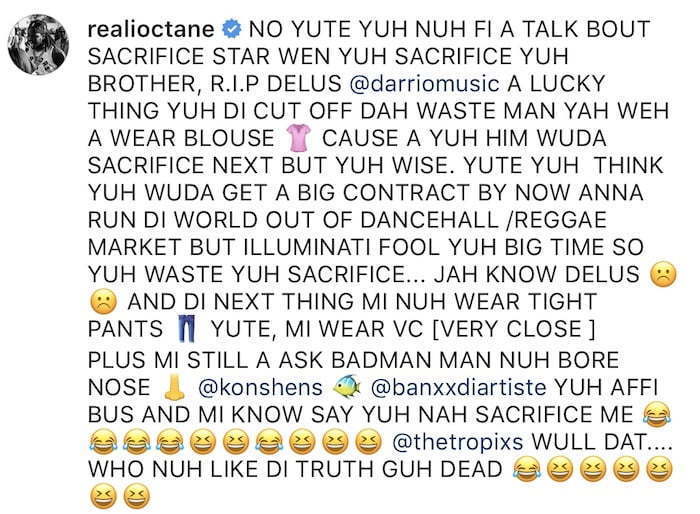 The video posted was of I-Octane performing at Spice's birthday bash. The 'Mind Yuh' deejay introduced a new talent, Banxx who he says is his artiste. Konshens was unimpressed with I-Octane's recent performance where he sarcastically suggested that the deejay sacrificed his young artiste on stage. The "Uptown" deejay response has left some fans disappointed and others concerned about the lengths that the deejay is willing to go to for this petty online feud.
In a comment shared under the post on Konshens' page, I-Octane said in part, "no yute yuh nuh fi a talk bout sacrifice star wen yuh sacrifice yuh brother. R.I.P. Delus," he wrote. The morbid comment which was screenshot and posted all over social media rubbed some fans the wrong way.
In response to Octane's comment, one user wrote "boy u petty bad." Another user's sentiments were "how dare you call the man's dead brother's name, "which echoed profoundly in the form of comment likes.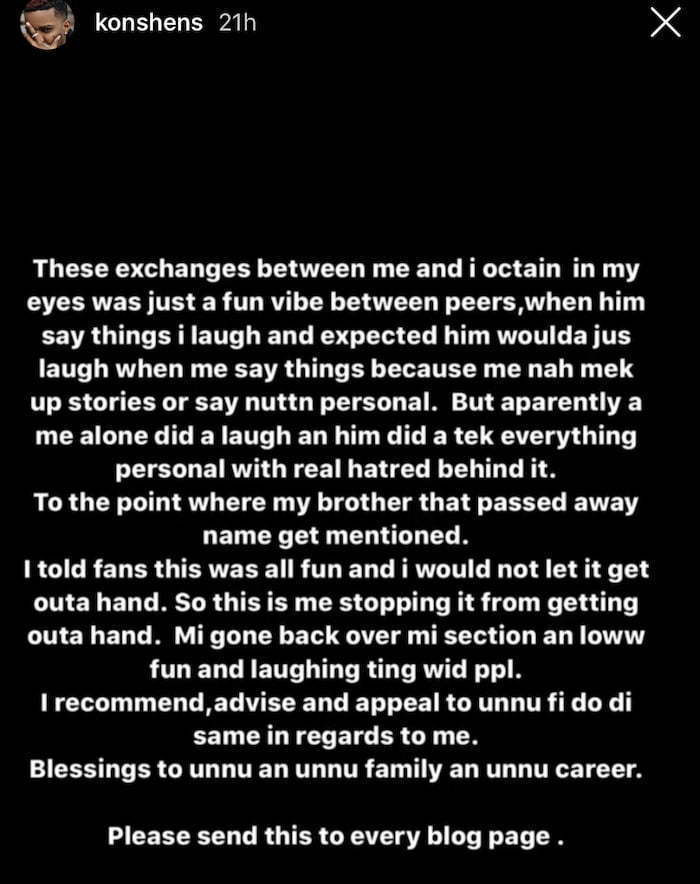 Konshens has since replied to Octane's insensitive remarks. In a post to his Instagram story, the Dancehall artiste said in part, "…aparently a me alone did a laugh an him did a tek everything personal with real hatred behind it. To the point where my brother that passed away name get mentioned. I told fans this was all fun and I would not let it get outa hand. So this is me stopping it from getting outa hand."
We regret it had to go this far for someone to call a truce, but we couldn't agree more that it is necessary. But some folks may argue that beef between artistes has mo boundaries as long as it's not physical.