Rihanna and Cardi B are not here for President Donald Trump's tweets after two mass shootings took place within hours of each other.
The two megastars sent tweets and captions to the president after a gunman killed 20 people in an El Paso, Texas shopping plaza, which was followed by a separate shooting that left nine dead in a Dayton, Ohio nightlife district over the weekend. Following the shooting in El Paso on Saturday morning, that also left 26 people wounded, President Trump took to Twitter to condemn the tragedy after reports came out that the gunman was a white nationalist who plotted to kill immigrants, according to the Associated Press.
"Today's shooting in El Paso, Texas, was not only tragic, it was an act of cowardice. I know that I stand with everyone in this Country to condemn today's hateful act. There are no reasons or excuses that will ever justify killing innocent people," the tweet read.
But just 13 hours later, a gunman opened fire in a crowd in a Dayton nightlife area. The shooter was killed by police, and his motive was not yet reported, AP said. R&B superstar Rihanna took to Instagram to share her condolences to the families of the victims, while also calling out President Trump for his response to the "hateful act."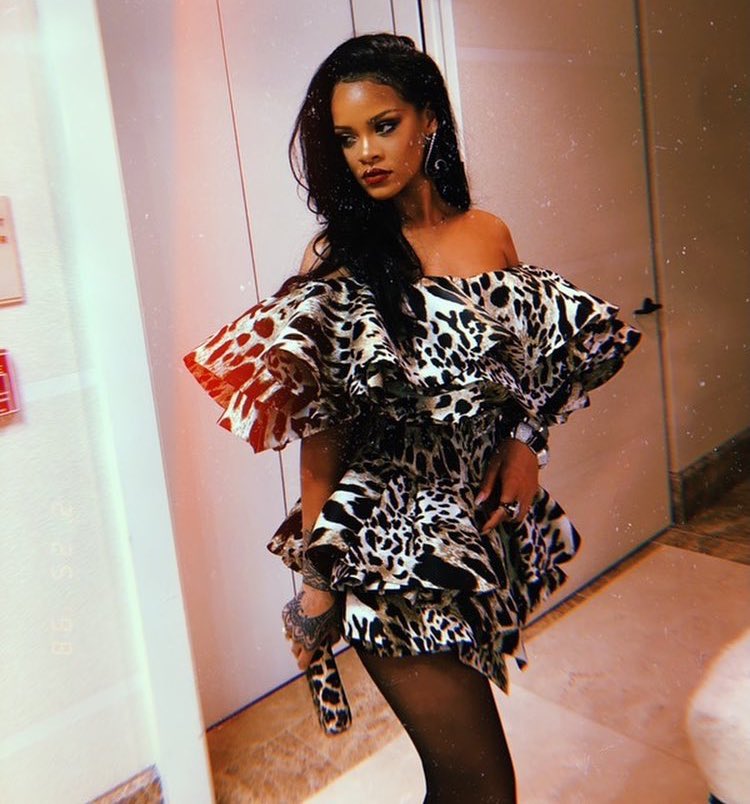 "Um… Donald, you spelt "terrorism" wrong! Your country had 2 terrorist attacks back to back hours apart leaving almost 30 innocent people dead. This, just days after yet another terrorist attack in California, where a terrorist was able to LEGALLY purchase an assault rifle (AK-47) in Vegas, then drive hours to a food festival in Cali leaving 6 more people dead including a young infant baby boy," the "Anti" singer wrote, referring to a shooting in Gilroy, California that left three dead at Gilroy Garlic Festival. "Imagine a world where it's easier to get an AK-47 than a VISA! Imagine a world where they build a wall to keep terrorists IN AMERICA!!!"
Trump also took to Twitter after the news broke of the Dayton shooting, thanking law enforcement for their rapid responses to both incidents.
"The FBI, local and state law enforcement are working together in El Paso and in Dayton, Ohio. Information is rapidly being accumulated in Dayton. Much has already be learned in El Paso. Law enforcement was very rapid in both instances. Updates will be given throughout the day," Trump said.
But Bronx rapper Cardi B was not satisfied with the president's messaging.
"We have enough information already! Both of the shooters are white supremacist terrorist with intentions to kill minority's. Law enforcement took rapid action but what are YOU going to do to control some of your RACIST SUPPORTERS?," she replied to Trump's tweet.
A fan then told the "I Like It" rapper to stay in her lane and stick to music, but Cardi told the fan that it was her country too, and she was tired of seeing tragedies like these unfold.
Both Cardi B and Rihanna have spoken out against President Trump and his administration since he was elected in 2016.
We have enough information already!Both of the shooters are white supremacist terrorist with intentions to kill minority's .Law enforcement took rapid action but what are YOU going to do to control some of your RACIST SUPPORTERS? https://t.co/P4iYAJa34L

— iamcardib (@iamcardib) August 4, 2019
This is not beyond my scoop this is my country and I'm tired ! I get it you are a conservative you and you can support who you want but you can't ignore the slowly but surely racial war that going on in this country that are the reasons of these tragedy . https://t.co/ZW7y7CCgab

— iamcardib (@iamcardib) August 4, 2019