YG and The Game manager Wack 100 now beefing. Here is what's going down.
Who would've thought that YG and Wack 100 would be beefing on social media on a Friday night? Don't act so surprised when this is the new normal in the age of social media. Real-life gangsters aired out each other on Instagram, something that used to take place in the studio and the streets back in the 1990s. Things have evolved, and everyone is now on IG except JAY-Z. Still, this is far better than people dying in the streets, and far more entertaining, especially when everyone is off work.
Late Friday evening on the east coast, Wack sent some subliminal shots at an unnamed rapper who he said wear skinny jeans and dance without a gang slogan.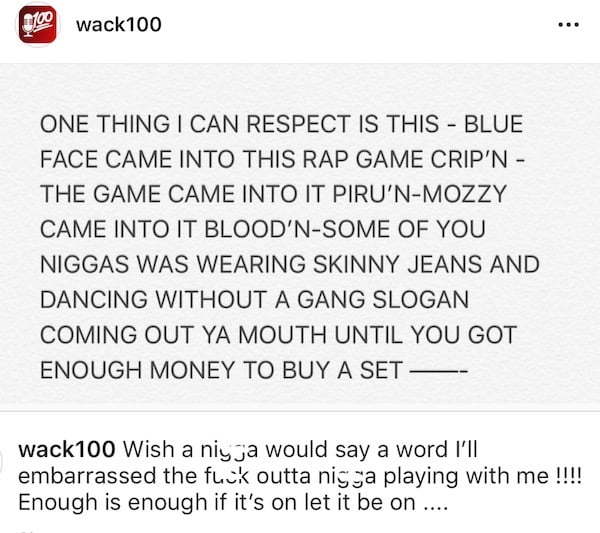 "ONE THING I CAN RESPECT IS THIS – BLUE FACE CAME INTO THIS RAP GAME CRIP'N -THE GAME CAME INTO IT PIRU'N-MOZZY CAME INTO IT BLOOD'N-SOME OF YOU NI**AS WAS WEARING SKINNY JEANS AND DANCING WITHOUT A GANG SLOGAN COMING OUT YA MOUTH UNTIL YOU GOT ENOUGH MONEY TO BUY A SET," Wack 100 wrote.
The Game manager added in the caption, "Wish a ni**a would say a word I'll embarrassed the f**k outta ni**a playing with me !!!! Enough is enough if it's on let it be on."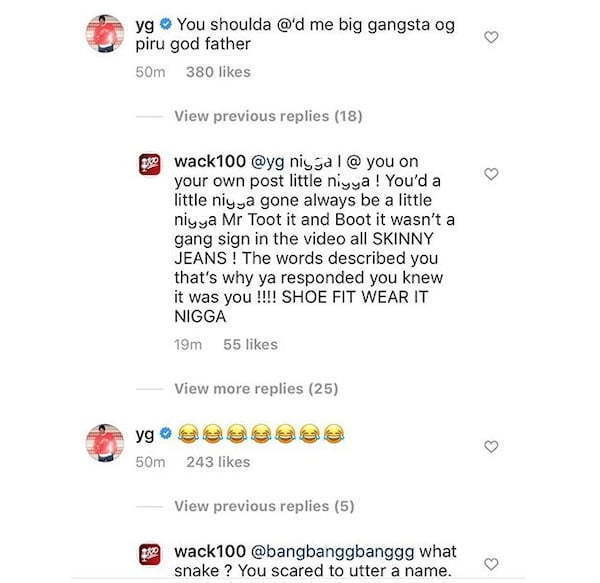 YG felt like Wack was sending subliminal shots at him and responded saying, "You shoulda @'d me big gangsta og piru god father."
Wack clapped back saying that the words he spoke accurately described YG and that's why he responded.